Boosey & Hawkes se Asocia con Realtime Music Solutions para Proveer Software Nuevo Digital para Interpretar Elementos Electrónicos de Obras
(May 2012)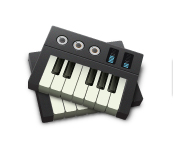 KeyboardEase™ ofrece una solución fácil y rentable para interpretar obras de parches de sonido con software fácil de conectar
Boosey & Hawkes está trabajando ahora con KeyboardEase™, impulsado por Realtime Music Solutions, para proveer un nuevo software digital para interpretar más fácilmente obras desde nuestro catálogo que tiene elementos electrónicos. Este software le ahorrará tiempo y dinero para las organizaciones de presentaciones, así como evitará dolores de cabeza en producción con equipos complicados.

KeyboardEase™ es una herramienta de rendimiento que contiene sonidos de sintetizador auténticos preinstalados en un orden secuencial para su concierto. Este software elimina el proceso caro y que consume mucho tiempo en obtener equipos y teclados desactualizados y difíciles de encontrar además de los correspondientes parches personalizados de software. En vez de ello, KeyboardEase™ proveerá todos los sonidos del sintetizador necesarios para realizar los parches del sintetizador original desde un software descargado fácilmente. Los intérpretes pueden usar cualquier teclado habilitado por MIDI y una computadora para recrear los instrumentos electrónicos y sonidos requeridos para realizar estas obras.

En este momento, están disponibles cuatro obras del catálogo Boosey & Hawkes a través de KeyboardEase™:
John Adams: Chamber Symphony
John Adams: Son of Chamber Symphony
John Adams: The Wound-Dresser
Steve Reich: Sextet

KeyboardEase™ creará parches de sintetizador para obras adicionales en el futuro, permitiendo que se interpreten más obras con mayor facilidad con equipos modernos. Las organizaciones que desean interpretar estas (y futuras obras cuando estén disponibles) deben contactar todavía a Boosey & Hawkes para una orden de renta, como antes, y obtener una autorización adicional para el software de parte de Realtime Music Solutions. Boosey & Hawkes le ayudará a contactarse con Realtime cuando ponga una orden.

> Para mayor información sobre Realtime Music Solutions y KeyboardEase™, haga clic aquí.
> News Search