Boosey & Hawkes signs Borowski, Deutsch and Svoboda
(January 2014)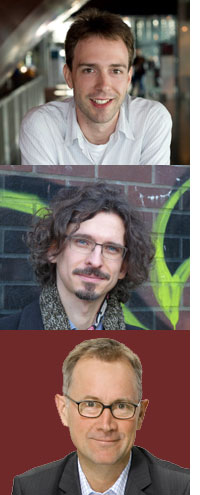 Boosey & Hawkes signs three new composers from Germany and Austria: Johannes Boris Borowski, Bernd Richard Deutsch and Mike Svoboda.
Johannes Boris Borowski
(b.1979)
With a growing international reputation, Johannes Boris Borowski is one of the leading contemporary composers to emerge from Germany in recent years. His intricate and richly imagined works have been premiered under the batons of Pierre Boulez, Susanna Mälkki and George Benjamin, with notable performances in Paris, Brussels, Porto, New York and Chicago. His orchestral work
change
, originally commissioned by the Lucerne Festival, travels to Radio France's Présences Festival in Paris this month, and to the Wroclaw World Music Days in October.
Three of Borowski's scores have been created for or by the Ensemble Intercontemporain,
second
for eight instruments, the 20-minute ensemble work
Mappe
which was toured internationally, and a new
Bassoon Concerto
for Pascal Gallois for first performance in Paris on 12 April.
Wandlung
for chamber ensemble, written for the Chicago Symphony's celebrations of Boulez's 85th birthday, receives its European premiere by Ensemble Aventure in SWR2's Ars Nova festival in May. Future commissions for premiere in 2015 include new works for the Neue Vocalsolisten Stuttgart and for the SWR Symphony Orchestra and Peter Eötvös at the Donaueschingen Music Days. A portrait CD of Borowski's music is planned for release later this year on the Wergo label.
>
www.boosey.com/borowski
Bernd Richard Deutsch
(b.1977)
Viennese composer Bernd Richard Deutsch enjoyed a five-work focus at last year's Wien Modern festival, including the world premiere of his new ensemble score Dr. Futurity. This commission for Klangforum Wien resulted from his winning of the Erste Bank Composition Prize and the premiere was conducted by Enno Poppe. The programme also included Deutsch's most celebrated ensemble work to date,
Mad Dog
, which he describes as a zoomorphic play tracking 24 canine hours in three movements: "Man likes to humanize the dog. Or is it rather the dog who 'dogisizes' the man?"
Other noted Deutsch works include
String Quartet No.2
premiered by the Arditti Quartet, the Takemitsu Composition Award-winning subliminal given its first performance by the Tokyo Philharmonic Orchestra, and the
Concerto for oboe and ensemble
, premiered by the ensemble reconsil in Vienna. He is currently working on a new concerto for brass trio and orchestra, to be premiered in Vienna this September by the Tonkünstler Orchestra under the baton of Andrés Orozco-Estrada.
>
www.boosey.com/deutsch


Mike Svoboda
(b.1960)
Trombonist and composer Mike Svoboda is best known for his collaborations as a performer with Karlheinz Stockhausen in the 1980s and '90s, and his premieres of over 400 works for trombone. When his work with Stockhausen ended, he returned to composition, the calling that had first brought him from Chicago to Germany in 1982 on a BMI Award for young composers. Svoboda's music occupies the interface between jazz, experimental and classical music, and between high culture and entertainment, employing both traditional and avant-garde techniques.
Last year brought the premiere of Svoboda's hour-long music-theatre work
Robin Hood – too good to be true
(2012) commissioned by the Lucerne Festival and touring to Cologne in April. Aimed at audiences from six years upward, the stagework is based on music by Dowland and scored for soprano and brass quintet. His youth opera
Erwin, the Natural Talent
receives its Austrian premiere this month by the Vienna Boys' Choir in its new concert hall, the MuTh, in co-operation with the Volksoper. Current commissions include an ensemble work for the Eunoia Quintet for premiere in Basel in May, and a new triple brass concerto for the Cottbus Philharmonic in 2015.
>
www.boosey.com/svoboda
Photos: Priska Ketterer, Boosey & Hawkes, Jens Klatt
> News Search
Mailing List
Sign up for news updates and offers via email
SIGN UP
ONLINE SCORES