Brett Dean Curates the Toronto Symphony's New Creations Festival
(February 2016)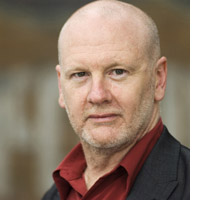 Brett Dean conducts and performs his works this March at the Toronto Symphony Orchestra's New Creations Festival.
Not many artists today take on the role of a composer-performer-conductor. Brett Dean is one of the few who is able to combine the prowess of all into the total package. For 14 years, Dean served as a violist in the Berlin Philharmonic and began composing in the '80s, developing a craft that would eventually yield international acclaim, receiving such accolades as the Grawemeyer Award and the Stoeger Prize. Recognizing the tremendous impact he has had on new orchestral repertoire, the Toronto Symphony Orchestra has enlisted Brett Dean to curate its New Creations Festival.
Each of the three events includes a work by Dean for soloist and orchestra. The Festival kicks off with a 5 March concert featuring Dean performing the solo viola part to his own
Viola Concerto
. On 9 March, trumpeter Håkan Hardenberger gives the Canadian premiere of Dean's work for trumpet and orchestra,
Dramatis personae
. The Festival's last concert on 12 March will see a performance of Dean's
Knocking at the Hellgate
for baritone and orchestra, a suite of excerpts from his acclaimed 2010 opera,
Bliss
, featuring soloist Russell Braun (also a Canadian premiere).
After the New Creations Festival, Håkan Hardenberger will continue performances of
Dramatis personae
in Austria with the Tonkünstler-Orchester Niederösterreich 19–21 March, with the BBC Scottish Symphony Orchestra on 21 April (Scottish premiere), and with the Orquestra Sinfonica Galicia (Spanish premiere) on 5 May in Vigo (and 6 June in La Coruña). In November, the BBC Symphony Orchestra will give the world premiere of Dean's
From Melodious Lay
at the Barbican.
> Further information on Work: Viola Concerto
Photo: Mark Coulson
> News Search
Mailing List
Sign up for news updates and offers via email
SIGN UP
ONLINE SCORES