Brett Dean: From Australia to the American West
(June 2009)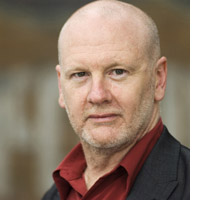 Australian composer
Brett Dean
will make his way to the American West this August, as a composer-in-residence at the Cabrillo Festival of Contemporary Music as well as a featured composer and performer at the Santa Fe Chamber Music Festival. This will mark Dean's first U.S. appearance since winning the 2009 Grawemeyer Award for his violin concerto,
The Lost Art of Letter Writing
(2007).
Like
The Lost Art of Letter Writing
, which draws on excerpts from 19th-century letters by composers Johannes Brahms and Hugo Wolf, artist Vincent Van Gogh and Australian outlaw Ned Kelly, much of Dean's work draws from literary, political or visual stimuli. The works on Cabrillo Festival of Contemporary Music's program are no exception.
Amphitheatre
(2000) is a scene for large orchestra depicting the ruins of an ancient amphitheatre as envisioned in German author Michael Ende's children's book, Momo.
Moments of Bliss
(2004), for orchestra and electronics, is based on Peter Carey's first novel ("Bliss"), a dark and satirical tale by the Australian author. This orchestral suite in four movements is only the first stop, however, in Dean's writing of his first opera—a full length adaption of Carey's Bliss for premiere with Opera Australia in 2010 followed by stagings in Germany and the UK.
It is fitting that Santa Fe Chamber Music Festival's all-Dean program falls under the "Modern Masters" title. Brett Dean has taken his place among the best composers of today as a keen observer with a sensitive and sensible, fluently contemporary voice. His dexterous craftsmanship and artfully designed textures will be heard in
Demons
(2004) for solo flute,
Huntington Eulogy
(2001) for cello and piano, and Eclipse (2003) for string quartet.
Yet what adds to Dean's unique profile as a modern master is his discovery while a tenured violist with the Berlin Philharmonic. Sir Simon Rattle came across one of Dean's scores and quickly became a champion of Dean's compositions, commissioning and touring a number of new works. Dean's intricate dance as composer and performer is perhaps best seen in
Intimate Decisions
(1996), a viola solo which Dean will perform in Santa Fe.
Dean continues his varied musical life as an internationally renowned performer, composer, and conductor in the coming season. He is currently writing a new piece for the Australian String Quartet and will join them for the November premiere. At home, he also serves as Artistic Director of the Australian National Academy of Music.
> Further information on Work: Moments of Bliss
> Further information on Work: The Lost Art of Letter Writing
> Further information on Work: Demons
> Further information on Work: Huntington Eulogy
> Further information on Work: Intimate Decisions
> Further information on Work: Amphitheatre
Photo: Mark Coulson
> News Search
Email Newsletters
Sign up for news updates and offers via email
SIGN UP
ONLINE SCORES