Brett Dean: Violin Concerto and Wolf-Lieder premieres
(January 2007)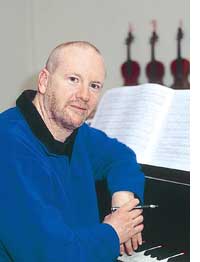 Dean's Violin Concerto and Wolf-Lieder premieres
Brett Dean
's new violin concerto for Frank-Peter Zimmermann, titled
The Lost Art of Letter Writing
, receives seven performances over the coming months.
Co-commissioned by the Cologne Philharmonie and the Royal Stockholm Philharmonic, the concerto receives its premiere by the Royal Concertgebouw Orchestra conducted by Martyn Brabbins, first as guests in Cologne (8 March) and then in Amsterdam (9 March). Two German orchestras immediately feature the concerto in Munich and Berlin: the Munich Philharmonic conducted by Jonathan Nott (14-17 March) and the Deutsches Symphonie-Orchester under Manfred Honeck (13/14 April). The Swedish and US premieres are planned for the 2007/08 season.
The impetus for the new concerto came from Dean's observation "that we are genuinely losing touch with the tactile element of written communication" particularly with our "heavy reliance on electronic stimuli… Sure, we stay in touch arguably more than ever, via telephone, email and messaging, but that too has undoubtedly changed the nature of communicating".
The movements of the concerto examine
The Lost Art of Letter Writing
through four 19th century examples, "ranging from private love-letter to public manifesto… The violin plays the alternate roles of both author and a recipient of letters, but perhaps more importantly, the solo part conjures something of the mood of each of the different letters". The opening movement explores the impassioned secret romance between Brahms and Clara Schumann, while the second is a prayer-like slow movement drawing upon van Gogh's view of nature as a point of stability in his troubled existence. An intermezzo is prefaced by a Hugo Wolf letter detailing his mental affliction, while the final movement is a headlong moto perpetuo rush towards catastrophe, inspired by the
Jerilderie Letter
of Australian bushranger Ned Kelly.
The third movement relates to a song-setting within Dean's new
Wolf-Lieder
for soprano and ensemble, premiered on 14 January by Valdine Anderson and the Birmingham Contemporary Music Group conducted by Sakari Oramo. The five songs in the cycle reflect on Wolf's skills as a Lieder composer, as heard in the
Spanish Songbook
, and set texts describing his increasing madness, estrangement from society and final, tragic incarceration.
2006 was Dean's most active concert year to date, marking him as one of the most internationally performed composers of his generation. Highlights included the German, Australian and US premieres of his Viola Concerto with the composer as soloist, the premiere and EMI recording of Komorov's Fall within Simon Rattle's asteroid series expanding Holst's Planets suite, and performances of Pastoral Symphony in Melbourne, Perth, Seoul, Los Angeles and Miami. Markus Stenz conducts the European premiere of Moments of Bliss, the orchestral suite drawn from Dean's forthcoming opera, at the Cologne Triennale on 20 May.
> Further information on Work: The Lost Art of Letter Writing
Photo: Noosa Weekender
> News Search
Mailing List
Sign up for news updates and offers via email
SIGN UP
ONLINE SCORES