Brett Dean: preludes to BBC Symphony residency
(July 2014)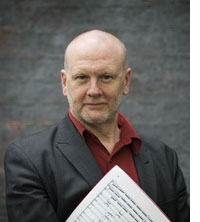 The UK premiere of Brett Dean's Electric Preludes at the BBC Proms is an upbeat to the composer's role as Artist in Association with the BBC Symphony Orchestra next season.
The BBC Proms includes the UK premiere of Brett Dean's Electric Preludes at the Royal Albert Hall in London on 7 August, heralding the Australian composer's Artist in Association role with the BBC Symphony Orchestra next season. Sakari Oramo, the orchestra's Chief Conductor, leads the performance with Francesco D'Orazio as electric violin soloist. The Dean premiere is a change from the programme listed in the printed Proms guide.

Electric Preludes consists of six short 'sketches' for electric violin and orchestra, inspired by visual stimuli. The interplay of music and art has provided impetus to Dean throughout his creative life, thanks to his partnership with his wife, the artist Heather Betts. Dean describes how "whilst conceived as pieces of pure music, the lines, gestures and energies contained within the work nevertheless owe much of their ultimate shape to imagery." Sources range from Australian desert art, through image searches on the internet for a 'squeaky swing', to cartographic aerial shots drawing parallel with shifting musical perspectives.

The work was originally composed for the Australian Chamber Orchestra and violinist Richard Tognetti and was premiered on a European tour in 2012. It has since been performed by the ACO on a ten-concert Australian tour and in Hong Kong, and by the Munich Chamber Orchestra. The solo instrument is a six string violectra, with a skeletal body and sound produced by directly sensing the interaction of string tension over the wooden frame. Dean is himself a distinguished string player, having been a violist with the Berlin Philharmonic for 15 years, and his compositions include a Viola Concerto, and a Grawemeyer Award-winning violin concerto The Lost Art of Letter Writing.

The BBC Symphony Orchestra's 2014/15 season at the Barbican includes the UK premiere of Dean's Christmas cantata The Annunciation with the BBC Singers under Josep Pons (19 November), the London premiere of his trumpet concerto for Håkan Hardenberger Dramatis personae conducted by Jukka-Pekka Saraste (5 December), and the UK premiere of his dramatic cantata The Last Days of Socrates with John Tomlinson in the title role and the BBC Symphony Chorus under John Storgårds (13 February).

Dean's relationship with the BBC Symphony Orchestra dates back to 2001 with a performance of his orchestral work Beggars and Angels, with following hightlights including the world premiere of the Viola Concerto in 2005 with the composer as soloist and the UK premiere of his opera Bliss at the Edinburgh Festival in 2010. Recent years have seen a Total Immersion day at the Barbican in 2012 including the UK premiere of Fire Music, and a release on the BIS label featuring Vexations and Devotions and Testament with conductors David Robertson and Martyn Brabbins.
> Further information on Work: Electric Preludes
Photo: Mark Coulsen
> News Search
Mailing List
Sign up for news updates and offers via email
SIGN UP
ONLINE SCORES