Brett Dean's Hamlet diffraction: From Melodious Lay
(January 2017)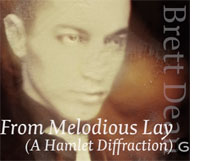 Brett Dean's From Melodious Lay, for soprano, tenor and orchestra, points the way to his new opera Hamlet, premiered at Glyndebourne in June.
"A remarkable trailer for
Brett Dean
's second opera,
Hamlet",
was the way
The Times
summed up
From Melodious Lay
, the Australian composer's vivid new work for soprano, tenor and orchestra
.
Receiving its premiere with Allan Clayton, Allison Bell and the BBC Symphony Orchestra under Joshua Weilerstein, the 23-minute score "more than whetted the appetite" for the opera opening at Glyndebourne this summer, according to
The Guardian
.
"Dean's 'diffraction', a setting of Shakespeare's words from the three surviving editions of the play, with some lines reassigned from other characters to the two principals, clearly points to the essentially psychological direction of the treatment. The troubled and oppressive desires of Hamlet and Ophelia are expressed in the slip and slide of eerily erotic harmonies."
The Guardian


"Something extraordinary happens in the first two bars of Brett Dean's
From Melodious Lay
(A Hamlet Diffraction)
… Dean has played with weightlessness in his music before — in the briny lamentations of
Eclipse
, his 2003 string quartet; and in
Bliss
, his bravura 2010 adaptation of Peter Carey's novel. In this extrapolation of ideas from his second opera,
Hamlet
, which premieres at Glyndebourne next year, there is an immediate shift from the frosted gleam of bowed percussion to a transparent suspension of muted divisi violas and cellos.
"If there are shades of Britten's night music and a watchful stillness reminiscent of Mahler's
Rückert-Lieder
, Dean has made them his own. Instead of reproducing Millais' painting
Ophelia
, he has zoomed in on a tiny detail of water and weeds. As the tenor soloist, who may be Hamlet but is singing Gertrude's words as well as his own, croons his first "Oh", the textures thicken then relax. Giddy with sorrow, the soprano — both Ophelia and Gertrude — shivers over circling flutes. Clarinets stutter and fall silent. Strings swarm. Chimes chink pitilessly. Sheets of foil flutter softly. Shakespeare's verse bites and soothes, finding its metre, blossoming into melismas, shattering into single words: "never, never, never, never, never . . ."
The Times


"The orchestral poem emerges almost imperceptibly with edgy string sounds and the soft stirrings of percussion, as if from the deep recesses of the mind. Sometimes, a word catches and is repeated over and over (Ophelia's "Never, never, never"), like a recurring memory. Occasionally, an urgent idea (Hamlet's "Get thee to a nunnery") jolts the music into frantic agitation. Only at the end does the music find a sort of resolution in the soft, warm, string haze of a clouded mind… It is the subtle, questioning uncertainty of Dean's orchestra that imposes itself — not a bad starting point for an opera on
Hamlet
."
Financial Times

From Melodious Lay
was commissioned by BBC Radio 3, the National Taiwan Symphony Orchestra who performed the work in Taipei under Shao-Chia Lü in January, the Zürich Tonhalle and Danish National Symphony Orchestra.
The premiere production of Dean's
Hamlet
, composed to a libretto by Matthew Jocelyn based on Shakespeare's play, opens at Glyndebourne on 11 June, followed by seven further performances. Vladimir Jurowski conducts the production by Neil Armfield, with the London Philharmonic Orchestra and a cast including Allan Clayton, Barbara Hannigan, Sarah Connolly, Rod Gilfry and John Tomlinson.
>
Glyndebourne website
> Further information on Work: From Melodious Lay (A Hamlet Diffraction)
Photo: © Lambis Stratoudakis
> News Search
Email Newsletters
Sign up for news updates and offers via email
SIGN UP
ONLINE SCORES