Brett Dean's new Fire Music at Australian Ballet and Total Immersion day in London
(February 2012)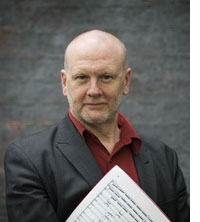 Following its premiere at the Brett Dean festival in Stockholm in November, his new work Fire Music is danced by Australian Ballet and travels to London for the BBC Symphony Orchestra's Total Immersion day devoted to his music.
Brett Dean
's
Fire Music
was premiered in Stockholm in November, providing a highlight of the Tonsättarfestival at the Konserthuset. In his most extensive retrospective to date, the five concerts saw Dean perform in multiple roles – as composer, violist and conductor – with the Royal Stockholm Philharmonic Orchestra and chamber musicians.
Fire Music
receives its Australian premiere on 24 February within a new dancework
Infinity
by Graeme Murphy with
Australian Ballet
giving performances in Melbourne and Sydney running until 25 April. The first Australian performances in concert will be by the Adelaide Symphony Orchestra on 4 and 5 May conducted by the composer.
On 17 March the UK premiere by the BBC Symphony Orchestra and David Robertson forms part of the
Total Immersion day
of Dean's music at the Barbican in London. See below for highlights of the programme.
"
Fire Music
is inspired by the bushfires that ravaged Australia a couple of years ago. It is possible, of course, to extricate this image from the musical experience, but otherwise it was not difficult to hear how the fire took hold of the grass, leapt up to the treetops and set entire forests aflame, before the flutes – spread out over stage and gallery – sowed the seeds of a more beautiful world."
Dagens Nyheter
"…a fascinating, effective piece, brilliantly performed. The ominously rumbling introduction creates the sensation that something terrible is coming this way, a feeling that is enhanced by an electric guitar solo. The combination of large orchestra and three instrumental groups distributed around the auditorium builds a sonic topography that reinforces the drama of the piece."
Svenska Dagbladet
"Dean doesn't stop at the ashes and smoke – the very devastation – but studies the role of fire in Australia's history, in the smoking rituals of the aborigines and other traditional ceremonies. He often takes this kind of dramatic historical event as the departure point of his compositions, but then lets the music take over on the strength of its own inherent logic."
Arbetarbladet
Brett Dean Total Immersion day

17 March 2012 Barbican, London
11.00 am
Intimate Decisions

Brett Dean viola
1.00 pm
Polysomnography/Voices of Angels/Wolf-Lieder

Jenevieve Moore, soprano/Guildhall Chamber Ensemble/Brett Dean
3.00 pm
Bliss

Screening of film of Australian Opera production
8.00 pm
Testament/The Lost Art of Letter Writing*/Carlo*(new version)/Fire Music*

Renaud Capuçon violin/BBC Singers/BBC Symphony Orchestra/David Robertson
*UK premiere
> Further information on Work: Fire Music
Photo: Mark Coulsen
> News Search
Email Newsletters
Sign up for news updates and offers via email
SIGN UP
ONLINE SCORES