Britten 100: Friday Afternoons encourages young people to sing
(January 2013)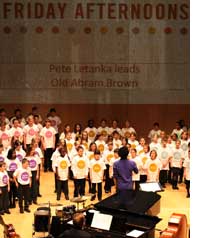 Young people are celebrating Britten 100 by participating in the Friday Afternoons project, singing songs by the composer on his centenary day of 22 November.
The most ambitious education initiative linked to the Benjamin Britten centenary is Aldeburgh Music's Friday Afternoons, named after the 12 children's songs the composer wrote between 1933 and 1935 for the school where his brother was a teacher. This nationwide singing project aims for tens of thousands of young people across the UK to join in songs from Friday Afternoons on Britten's 100th birthday on 22 November, which happens to fall on a Friday. The longer-term objective is to highlight the composer's legacy of work for young people and to encourage more singing in schools.

www.fridayafternoonsmusic.co.uk offers free resources to aid teaching of the songs, including lesson plans, downloadable scores and backing tracks, easy ensemble arrangements, biographical information, a photo archive, an interactive timeline, and the opportunity to upload and share performances. A selection of the songs were orchestrated by Heuwell Tircuit and the set has been completed by Hywel Davies to enable complete performances. The BBC Philharmonic plans to premiere the new orchestrations as part of Radio 3's Britten centenary residency at Aldeburgh. If you would like to perform the orchestrated versions, please contact our Rental Library.

Registered users of the Friday Afternoons website are entitled to a special 15% discount on orders of sheet music over £20.

Visit our special Britten 100 microstore for sheet music, CDs, DVDs, books and a new range of Britten gifts from iPhone covers to cufflinks at www.boosey.com/brittenstore.
> Further information on Work: Friday Afternoons
Photo: launch of the Friday Afternoons project at Snape Maltings in Aldeburgh
> News Search
Mailing List
Sign up for news updates and offers via email
SIGN UP
ONLINE SCORES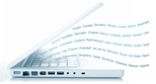 Explore our library of over 1000 online scores
VIEW SCORES