Britten centenary celebrated by Royal Mint with 50p coin
(September 2013)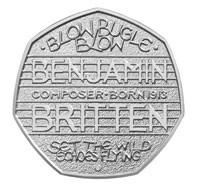 The Royal Mint has revealed the design for the 50p coin commissioned to mark the centenary of the birth of Benjamin Britten, which falls on 22 November 2013.

The first time that a composer has been featured on a British coin, the Benjamin Britten 50p is scheduled for release into general circulation later this year, and is available from 27 September in commemorative gold proof, silver proof and brilliant uncirculated versions in readiness for Britten's centenary celebrations on 22 November 2013.

Designed by artist Tom Phillips CBE, RA, the coin features Tennyson's words "Blow Bugle Blow" and "Set the Wild Echoes Flying", set to music by Britten in Serenade for tenor, horn and strings. The name of the composer is framed in a double stave, referencing the piano on which Britten was a virtuoso.

Tom Phillips said: "What I wanted the coin to speak of was music. Thus the stave soon entered the design… and his name married well with the stave. The natural accompaniment with Britten's passion for poetry as our preeminent composer of opera and song, was some kind of key quotation. The words which eventually suggested themselves, come from the Serenade for Tenor, Horn and Strings. What better clarion call for a musical anniversary could there be than "Blow, bugle, blow: set the wild echoes flying?"

Kevin Clancy, Director Royal Mint Museum, said:"Britten is one of the great British cultural figures of the 20th century so it is wholly appropriate that Tom Phillips, himself a composer, should have designed the coin to commemorate Britten's birth."

Richard Jarman, Director Britten-Pears Foundation, said:"Benjamin Britten wanted his music to be 'useful' and to be played and heard by as many people as possible. He would therefore be thrilled that this new 50p coin will put him into everyone's hands and pockets. We are enormously proud that Britten is being honoured in this way by the Royal Mint and the nation."

As well as being the first composer to be featured on a British coin, Britten is the first individual, apart from the monarch, to have his name on the 50p piece. Edward Elgar appeared on the £20 note between 1999 and 2010. There are estimated to be 28.9 billion UK coins in circulation, with a total face value of £3.9 billion, all manufactured by the Royal Mint. In addition to manufacturing currency for the UK, the Royal Mint serves more than 100 issuing authorities around the world and meets around 15% of global demand, making the UK the world's biggest coin maker.

Read the full official press release as a PDF.

Read more about the Britten 100 celebrations.
> Further information on Work: Serenade
Photo: Royal Mint
> News Search
Mailing List
Sign up for news updates and offers via email
SIGN UP
ONLINE SCORES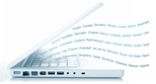 Explore our library of over 1000 online scores
VIEW SCORES