Carlisle Floyd: Prince of Players for his 90th birthday
(February 2016)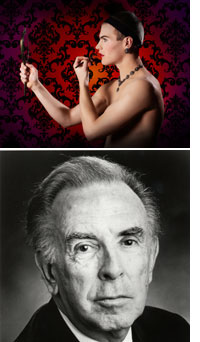 Carlisle Floyd's new opera Prince of Players, retelling the identity crisis of Restoration actor Edward Kynaston, is premiered in Houston to celebrate the composer's 90th birthday year.
Celebrations for the 90th birthday of Carlisle Floyd, rightly regarded as the Dean of American Opera, are headed by the world premiere of his new opera. Commissioned by Houston Grand Opera, Prince of Players opens on 5 March, conducted by Patrick Summers and directed by Michael Gieleta. Verdi was 80 when he completed Falstaff, and this example inspired Floyd to complete one last stagework as an octogenarian, a chamber opera in two acts to be premiered ten years after his Cold Sassy Tree of 2006.

More than any other American opera company, Houston has built a special relationship with Floyd, staging six of his operas and premiering four of them. Floyd co-founded the Houston Grand Opera Studio with David Gockley in 1976, as a training programme for young singers bridging the gap between college and professional life, with alumni including mezzos Denyce Graves and Joyce DiDonato. 40 years on, the cast of Prince of Players is led by Studio artists Ben Edquist and Mane Galoyan.

Though Floyd's operas have often explored American themes, Prince of Players is set in Restoration England, dealing with a leading actor's crisis of personal and professional identity. The androgynous Edward Kynaston (c.1640-1712), one of the last men to perform women's roles, was described by Samuel Pepys as "the loveliest lady that ever I saw in my life". His successful career as an idolised celebrity was abruptly ended with Charles II's 1661 edict declaring "No he shall play she" again on the British stage, which prompted the introduction of female actors into the theatre. The opera charts Kynaston's fall from stardom back to the rough London streets of his childhood and his battle to adapt to a future playing male characters in a new realistic style, winning acclaim in a series of Shakespeare roles.

> Visit the Houston Grand Opera website

Floyd first rose to prominence in the 1950s with his opera Susannah, relocating the Apocryphal tale to the American Bible belt. Across the 60 years since its premiere the opera has become the most performed American opera by a living composer, winning singers and audiences to its soaring lyricism and Appalachian folk melodies. Themes of McCarthy-style persecution, feminist resistance and religious fundamentalism have assured Susannah's ongoing topicality, as witnessed by the 2014 San Francisco Opera production with Patricia Racette in the title role.

After Susannah, Floyd's most familiar opera is Of Mice and Men, with current stagings by Austin Opera and Manitoba Opera in Winnipeg. This powerful adaptation of John Steinbeck's novella, following a pair of itinerant agricultural workers, has attracted leading dramatic tenors to the role of gentle giant Lennie, including Anthony Dean Griffey in Bruce Beresford's production for Opera Australia in 2011.
> Further information on Work: Prince of Players
Photos: Houston Grand Opera / Lynn Lane, Jim Caldwell
> News Search
Email Newsletters
Sign up for news updates and offers via email
SIGN UP
ONLINE SCORES