Carter: Commander of the French Legion of Honor
(September 2012)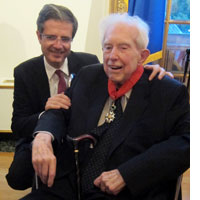 Prestigious international award presented at start of busy season with two world premieres
Esteemed American composer
Elliott Carter
, 103, has received numerous honors in his lengthy career, including two Pulitzer Prizes, the United States National Medal of Arts and Germany's Ernst Von Siemens Music Prize. Carter can now add another international honor to this prestigious list:
Commander of the French Legion of Honor
. At a private ceremony held at French Embassy in New York on
September 21, 2012
, H.E. François Delattre, French Ambassador to the United States, presented Carter with this special award, the highest bestowed by the French government.
Carter was presented with this special recognition for his substantial work with many of France's great musicians, including Nadia Boulanger, Pierre Boulez, Pierre-Laurent Aimard and Ludovic Morlot. Over the years, he has written works commissioned by several French organizations, including the French Ministry of Culture and Communication, the Ensemble Intercontemporain and Cité de la musique in Paris. Carter is also an honorary founding member of the French-American Fund for Contemporary Music, established in 2004, which has promoted more than 150 French-American collaborative projects in contemporary classical music. This new honor by the French government comes after a previous acknowledgment in 1987, when Carter was named Commander of the Ordre des Arts et des Lettres.
The 2012–13 season continues to be busy for Carter, including two world premieres.
Dialogues II
, a new work for piano and chamber orchestra dedicated to Daniel Barenboim in honor of his 70th birthday, is premiered on October 25, 2012 at La Scala in Milan, with Dudamel leading Barenboim. The work is presented again at Berlin's Philharmonie by the Staatsoper Unter den Linden on November 15. The Seattle Symphony will present the premiere of
Instances
(2012) for chamber orchestra on February 7, 9 and 10, 2013, led by Ludovic Morlot.
> Further information on Elliott Carter
Photo: Ambassador François Delattre and Elliott Carter
> News Search
Email Newsletters
Sign up for news updates and offers via email
SIGN UP
ONLINE SCORES