Carter: Instances in Seattle
(February 2013)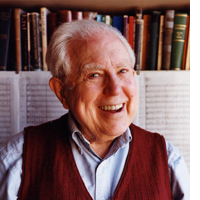 Seattle Symphony to Premiere Last Completed Orchestral Work by Elliott Carter
Just months after the passing of two-time Pulitzer Prize winner
Elliott Carter
, the Seattle Symphony sets out to give the world premiere of the prolific composer's last completed orchestral work,
Instances
, on Thursday,
February 7
. A gift to conductor Ludovic Morlot, heralding his appointment as Music Director of the Seattle Symphony in 2011,
Instances
is an eight-minute "series of short interrelated episodes of varying character," as described by the composer.
> Click here to purchase tickets.
On
January 13
, a tribute concert for Elliott Carter at Le Poisson Rouge in New York featured friends and fans performing timeless works, new and old, by the composer. Cellist Fred Sherry and Ensemble LPR entertained a packed house—the
New York Times
noting that "…for all the trademark complexity of Carter's compositional voice, his music embraced wide-ranging styles and influences, which made a Carter program especially suitable for a club bent on breaking down boundaries."
> Click here to watch Elliott Carter talk about his early years.
Elliott Carter, internationally recognized as one of the most distinguished American voices in classical music, passed away at the age of 103 in New York. Noted for his continued musical output in the final decades of his life, Carter's total catalogue exceeds 150 works in nearly every genre. An all-Carter concert in honor of his 103rd birthday in December 2011 featured the world premieres of
String Trio
(2011) and
A Sunbeam's Architecture
(2010), as well as two surprise pieces composed in the month preceding the concert:
Rigmarole
and
Mnemosyné
.
Other upcoming US performances of Elliott Carter's works include:
March 22, 2013
Tintinnabulation
Boston University / Sam Solomon
Boston University School of Music, Boston, MA
March 24, 2013
Double Trio
Boston Musica Viva / Richard Pittman
Tsai Performance Center, Boston, MA
March 28, 2013
Asko Concerto
Students of Sibelius Academy and Juilliard School / Susanna Mälkki
Alice Tully Hall, New York, NY
April 21, 2013
Figment II
Cellists of Lincoln Center
Alice Tully Hall, New York, NY
May 10, 2013
Triple Duo
Ensemble ACJW
Weill Recital Hall, New York, NY
> Further information on Work: Instances
Photo Credit: Meredith Heuer
> News Search
Email Newsletters
Sign up for news updates and offers via email
SIGN UP
ONLINE SCORES