Carter celebrates 100th with new Interventions
(December 2008)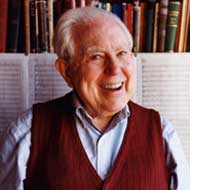 Elliott Carter celebrates 100th with new Interventions
Elliott Carter
celebrated his 100th birthday on 11 December by attending a Carnegie Hall concert including the New York premiere of his new
Interventions
, featuring two of the world's leading musicians who have championed his works. Daniel Barenboim was piano soloist and the Boston Symphony Orchestra was conducted by James Levine, appearing together again following the work's world premiere in Boston on 4 December.
The New York Times described how, after the performance, "Mr. Carter slowly rose amid the cheers and applause, and with the aid of a friend, made his way to the stage. Mr. Barenboim took his arm and helped him up the steps. A mock cake adorned with piano keys and musical notes, topped with a sparkler, was wheeled out. The orchestra broke into "Happy Birthday," with the audience singing along. After Mr. Carter made his way back to his seat, Mr. Barenboim and Mr. Levine, who had asked him to write the piece for the occasion, stood at the edge of the stage applauding."
"Mr. Carter wrote the 17-minute piece, for piano and orchestra, just last year, at 98. In fact, since he turned 90, Mr. Carter has poured out more than 40 published works, an extraordinary burst of creativity at a stage when most people would be making peace with mortality. His first opera had its premiere in 1999. He produced 10 works in 2007 and six more this year."
New York Times
When
Interventions
was premiered in Boston, the Boston Globe described the new score and the audience's enthusiastic reaction: "They were applauding the world premiere of Carter's new work for piano and orchestra but they were, on a more basic level, applauding the man himself, who has persisted decade after decade in writing music as freshly imaginative as it is fiercely modern, often with an energy and wit unmatched by composers half his age."
"
Interventions
, a BSO co-commission for piano and orchestra, was written for James Levine and Daniel Barenboim. As you might expect in a Carter work, the traditional model of the Romantic piano concerto is tossed out the window in favor of something more fractured and, quite purposefully, more evenhanded in the interplay between soloist and orchestra. Cast in one movement roughly 15 minutes long, the music is full of surprisingly lyrical string writing - by Carter's standards - with frequent interruptions from the piano, which then holds court with pointy, eruptive figuration or big, iridescent chords. Two independent trios help negotiate between orchestra and soloist. The final flourish is uncharacteristically brash - and life-affirming. Barenboim, Levine, and the BSO gave it a crackling first performance."
Boston Globe
> Further information on Work: Interventions
Photo: © Meredith Heuer
> News Search
Email Newsletters
Sign up for news updates and offers via email
SIGN UP
ONLINE SCORES