Unsuk Chin: World Premiere of Graffiti in LA
(February 2013)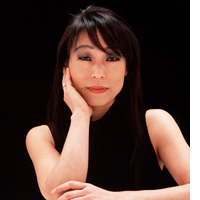 LA Phil to Give World Premiere of Unsuk Chin's Graffiti—the composer's newest work for chamber orchestra
As part of the Los Angeles Philharmonic's highly popular
Green Umbrella
series,
Unsuk Chin
's
Graffiti
, a new work for chamber orchestra, will receive its world premiere at Walt Disney Concert Hall on Tuesday,
February 26
in a program that also features works by John Adams (conducting his own
Son of Chamber Symphony
) and Joseph Pareira.
Graffiti
—a co-commission from the Los Angeles Philharmonic Association, the Barbican, musikFabrik, and Orchestra Ensemble Kanazawa—will be performed under the baton of Gustavo Dudamel.
> Click here to purchase tickets.
Of this new work, Chin notes: "My ensemble piece
Graffiti
can be likened to a palimpsest. The music is polydimensional and multilayered; one can hear allusions to a manifold of styles, which are juxtaposed in a kaleidoscopic manner. A special stimulus was the controversial phenomenon of Street Art, which—without being commercial and without ever attempting at being 'high culture'—nevertheless often displays remarkable creativity and skill. Besides, Street Art often wittily succeeds in criticizing the commercialization and uniformity of cities insofar as it thwarts the expectations created by omnipresent mass media and by advertising. As for
Graffiti
, the music shifts quickly and unexpectedly between primitivism and refinement, complexity and transparency. It calls for great agility, virtuosity and constant changes of perspective from the musicians; each instrument is being treated as a soloist."
Unsuk Chin, arguably the most recognized and sought-after composer to have ever come from Korea, has been awarded numerous awards and accolades throughout her career. She is the recipient of the 2004 Grawemeyer Award, the 2005 Arnold Schoenberg Prize, the 2010 Prince Pierre Foundation Music Award, and the 2012 Ho-Am Prize. Her music has been performed by the world's most prestigious ensembles including the Berlin Philharmonic, BBC Symphony Orchestra, Chicago Symphony Orchestra, London Philharmonic Orchestra, and Los Angeles Philharmonic and has collaborated with esteemed conductors such as Simon Rattle, Gustavo Dudamel, Kent Nagano, Esa-Pekka Salonen, David Robertson, and Neeme Järvi, among others. Since 2006, Chin has been composer-in-residence with the Seoul Philharmonic Orchestra at the invitation of its chief conductor Myung-Whun Chung and has overseen the orchestra's contemporary music series, which she founded herself.
Other upcoming performances of works by Unsuk Chin include the US premiere of
Gougalon
at the Metropolitan Museum of Art (New York, NY) on
April 5
and Symphony Space (New York, NY) on
April 6
featuring Alan Gilbert and the New York Philharmonic.
> Further information on Work: Gougalon
> Further information on Work: Graffiti
Photo credit: Eric Richmond
> News Search
Email Newsletters
Sign up for news updates and offers via email
SIGN UP
ONLINE SCORES