Christopher Rouse: Organ Concerto Reviews
(December 2016)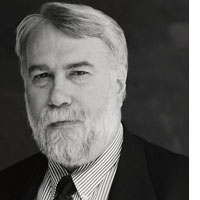 Rouse's latest concerto, dedicated to its soloist Paul Jacobs, was premiered in Philadelphia in November and travels to Los Angeles and Washington, DC. in the spring.
Christopher Rouse
's much-anticipated Organ Concerto, written for virtuoso Paul Jacobs, received its world premiere on November 17 with the Philadelphia Orchestra helmed by conductor Yannick Nézet-Séguin. The work was commissioned to celebrate the 10
th
anniversary of the Kimmel Center's impressive 7,000-pipe Fred J. Cooper Memorial Organ and was performed alongside other works starring the "king of instruments"—Barber's
Toccata festival
and Saint-Saëns Symphony No. 3.
The Philadelphia Inquirer wrote, "The Friday performance under music director Yannick Nézet-Séguin revealed some of the composer's most satisfying music, but not for typical reasons. It started triple forte—not unexpected for this master of orchestral extremes—though what followed in the first movement left me wanting more." The Wall Street Journal describes the music of the opening movement: "Densely packed with thematic ideas and neat orchestral effects—swooping cymbals and brass, drum explosions, restless chromatic scales in the violins, an insistent marching rhythm in the xylophone—the Allegro contains many captivating moments, but they come and go in dizzying succession.
The Wall Street Journal praised the second movement in particular: "The devastating Lento, a brief oasis of repose between the fast outer movements, has a somber, tortured beauty. Shimmering strings, and an almost hymnal organ passage near the end suggest acceptance, perhaps the 'acceptance' stage of grief."
The piece closes with a quick-paced third movement, following a traditional symphonic format. The Financial Times described the final section of the concerto: "The bracing third movement in compound metre, which started with a jagged fugue-like subject in quick notes and, abetted by Jacobs's wizardry, gathered fury to become a fiendish, manic gigue."
After this successful run with The Philadelphia Orchestra, soloist Paul Jacobs will perform Rouse's Organ Concerto at Walt Disney Concert Hall with the Los Angeles Philharmonic and David Robertson on April 20, and at The Kennedy Center with the National Symphony Orchestra and Gustavo Gimeno on May 11. The piece was commissioned by The Philadelphia Orchestra, Yannick Nézet-Séguin, Music Director; the Los Angeles Philharmonic Association, Gustavo Dudamel, Music Director; and the National Symphony Orchestra, Christoph Eschenbach, Music Director.
> Further information on Work: Organ Concerto
Photo: Jeffrey Herman
> News Search
Mailing List
Sign up for news updates and offers via email
SIGN UP
ONLINE SCORES