Christopher Rouse: Trumpet concerto premiere in Chicago
(October 2012)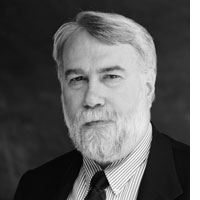 Christopher Rouse's new trumpet concerto, Heimdall's Trumpet is premiered on December 20 by the Chicago Symphony Orchestra, featuring CSO Principal Trumpet Christopher Martin
The 2012–13 season looks to be a big one for composer Christopher Rouse, featuring two premieres of new works and two residencies, all at top American orchestras. Kicking off the season highlights is the premiere of his new concerto,
Heimdall's Trumpet
, by the Chicago Symphony Orchestra. The work was written for the ensemble's Principal Trumpet, Christopher Martin, who stands in front of his orchestra for three performances,
December 20–22, 2012
, led by conductor Jaap van Zweden.
Heimdall's Trumpet
(2011) is Rouse's second concerto for a brass instrument, coming after the Pulitzer Prize-winning
Trombone Concerto
(1991). Rouse's newest concerto depicts a dramatic Nordic tale, following many previous Rouse works steeped in mythological stories. The demanding trumpet part in the concerto allows the instrument to act as a clarion call to a world on the brink of destruction. As the composer notes: "The title of the work refers to the Nordic god Heimdall, whose blasts on his trumpet announce the onset of Ragnarok, the Norse equivalent of Armageddon. Cast in four movements, the title of the piece refers properly to the finale, which attempts in a general way to depict these mythological events as I imagine them. The onset of Ragnarok occurs only at the very end of the work, in a very short orchestral fortissimo outburst followed by an extended silence."
Also this season, Rouse's
Symphony No. 3
(2011) is performed
November 8 and 11
by Marin Alsop and the Baltimore Symphony Orchestra, a co-commissioner of the work. The two-movement work, premiered by the St. Louis Symphony and inspired by Prokofieff's Symphony No. 2, was hailed by the
St. Louis Post-Dispatch
after its premiere as a work that "could easily become a programming staple of orchestras worldwide." After the new year, the New York Philharmonic performs the first works of Rouse's two-season tenure as composer-in-residence, highlighted by the premiere of his new opener,
Prospero's Rooms
. Additionally, Rouse will serve as the Albany Symphony Orchestra's Mentor-Composer Partner during the 2012–13 season.
> View the score to Heimdall's Trumpet
> Further information on Work: Heimdall's Trumpet
Photo: Jeffrey Herman
> News Search
Email Newsletters
Sign up for news updates and offers via email
SIGN UP
ONLINE SCORES