Christopher Rouse: World Premiere of Oboe Concerto
(January 2009)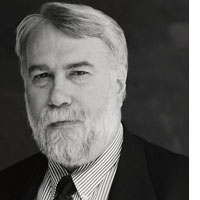 Christopher Rouse will attend the world premiere of his Oboe Concerto on February 5, performed by the Minnesota Orchestra and principal oboist Basil Reeve. Conductor Osmo Vänskä will lead the premiere at Orchestra Hall along with subsequent performances February 6-8.

Recently named Musical America Composer of the Year for 2009, Rouse celebrates his 60th birthday on February 15. Throughout his career he has made a remarkable contribution to the orchestral repertoire, with twenty-three symphonic works to date. The Oboe Concerto, commissioned by the Minnesota Orchestra and completed in 2004, is one of nine works for solo instrument and orchestra by the composer.

Says Rouse: "Unlike some of my other concerti, there is no overt program to this piece. It aims of course to explore the capabilities of the oboe. It is cast in the more-or-less traditional three movement mold (fast-slow-fast) with brief and rather static slow sections at the beginning and end providing a frame for the piece. Much of the musical material in the concerto is derived from the five-note chord played by the strings at the very opening. As the music progresses, this chord undergoes a variety of metamorphoses, being used to generate both melodic and further harmonic content."

Following these world premiere performances, the Oboe Concerto will travel to the Aspen Music Festival this summer. Other upcoming Rouse engagements this season include Rapture with the Royal Liverpool Philharmonic Orchestra (Jan 31), Der gerettete Alberich with Evelyn Glennie and the Indianapolis Symphony Orchestra (Jan 23, 24), and Friandises with the Detroit Symphony Orchestra led by Leonard Slatkin (April 23-25).

As part of Alan Gilbert's first season at its helm, the New York Philharmonic has commissioned a new piece from Rouse, Zhizn, which will receive its world premiere performances February 10-12, 16; 2010.

On a recently released recording from BIS, Alan Gilbert conducts Rouse's Iscariot, Clarinet Concerto, and Symphony No. 1 with the Royal Stockholm Philharmonic Orchestra and soloist Martin Fröst.


 

 
> Further information on Work: Oboe Concerto
Photo: Jeffrey Herman

Boosey & Hawkes Composer News