Complete guide to Britten's Choral Music launched
(May 2012)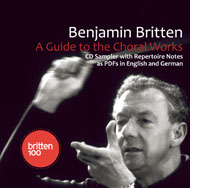 The first ever complete guide to Britten's choral music features Repertoire Notes by Paul Spicer on each work to assist choral directors.
A new guide to the choral music of Benjamin Britten has been released in anticipation of the composer's centenary in 2013. The guide consists of a CD sampler with 36 tracks and over an hour of music, together with PDFs in English and German containing a detailed survey of Britten's choral works, written by Paul Spicer – the first to cover the composer's complete output.

Paul Spicer's repertoire notes cover all choral genres explored by Britten: music for concert halls, church and school, for chamber and symphony choruses, and for young voices and church choirs. For each work there is a practical commentary, including level of difficulty and rehearsal tips for choral directors. Links are provided to all sales items.

The new guide is a collaboration between the Britten-Pears Foundation and the three publishers of Britten's music: Boosey & Hawkes, Chester Music and Faber Music.
> View the new Guide (PDF)
> Listen to clips of Britten's choral music (marked NEW)

A new Britten 100 website is due to be soft-launched by the BPF in mid-June, including an overview of centenary performances which can be added to by performing organisations. The full site will go live to the public on Britten's 99th birthday on 22 November. Visit www.britten100.org.

If you would like to inform us of your Britten Centenary plans, please email us on composers.uk@boosey.com.
> News Search
Mailing List
Sign up for news updates and offers via email
SIGN UP
ONLINE SCORES