Critical Acclaim for Worldwide Premieres of Stravinsky's Funeral Song
(June 2017)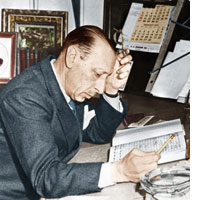 Performances of Stravinsky's rediscovered orchestral work Funeral Song around the world have provoked much discussion and excitement in the classical music community among musicologists, musicians, and critics.
Stravinsky's
Funeral Song
—lost for over a century and rediscovered by musicologist Natalia Braginskaya in 2015 at the St. Petersburg Conservatory—has reentered the concert sphere with an extensive international premiere tour, including more than 70 performances lined up throughout 2017.
[
Read more about the rediscovery of Funeral Song here.
]
Critical response to the newly resurfaced work has been overwhelming. After the work's UK premiere on February 19, performed by Esa-Pekka Salonen and the Philharmonia Orchestra,
The Times
(UK) called the work "darkly beautiful," and
The Guardian
remarked on its "extraordinary emotional power."
The
Sunday Times
proclaimed that
Funeral Song
was "bound to become a classic."
Renowned music writer Alex Ross wrote an in-depth essay about the music and its historical background in
The New Yorker
, calling it "a modestly shattering discovery, one that alters our view of the 20th century's musical colossus." Upon analysis, Ross makes the following determination: "The music has a veiled power, and hints at otherwise hidden sources of inspiration. A spectre haunts the scene: the spectre of Wagner."
The piece traveled stateside, making its US premiere with the Chicago Symphony Orchestra and Charles Dutoit on April 6. Major US news outlets published the following statements about the work:
"The importance of
Funeral Song
lies in what it reveals of the artistic development of one of the last century's great musical geniuses, and its portents of greater Stravinsky works to come (his revolutionary "Rite of Spring" lay only five years in the future)."

—Chicago Tribune
"Orchestral color abounds in
Funeral Song
."

—Musical America
"
Chant funebre
(or
Funeral Song
) is a strong and impressive work in its own right, the young Stravinsky taking a big leap forward in his writing for orchestra … One can see this dignified, evocative music quickly entering the repertory, especially for concerts marking a significant passing."

—Chicago Classical Review
"
As for the music itself, it is, in this listener's opinion, one of Stravinsky's great works. It is tempestuous, Romantic, elegiac, a mix of rage and mourning … just listen. It fits perfectly into the canon of brilliant, let's say, 'death works.'"

—The Forward
> Further information on Work: Funeral Song (Pogrebal'naya Pesnya)
> News Search
Email Newsletters
Sign up for news updates and offers via email
SIGN UP
ONLINE SCORES