Detlev Glanert: UK premiere of Caligula at ENO in London
(April 2012)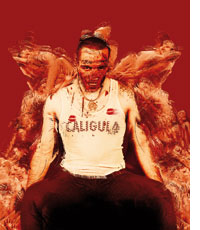 A new production of Detlev Glanert's opera Caligula, a powerful exploration of totalitarian politics based on the play by Albert Camus, opens on 25 May at English National Opera in London.
Though Detlev Glanert is one of the most widely performed German operatic composers of his generation, the new Caligula production at ENO by Benedict Andrews is the first staging of any of his full-evening operas in the UK. The London performances introduce a new English translation by Amanda Holden, the cast is led by Peter Coleman-Wright, and ENO forces are conducted by Ryan Wigglesworth. Caligula was premiered in Frankfurt and Cologne in 2006 and recorded for Oehms Classics.

The opera starts at the point when the Emperor Caligula's sister and lover Drusilla is dying. After hiding himself for three days he returns, unhinged, into a chilling new clarity of understanding. He announces that he will marry the moon and launches a regime of terror upon his courtiers. He sets out to prove that he is the only free human, destroying all around him until he is truly alone and ready to claim immortality.

Glanert describes how "Camus understood the nature of the dictator, that his total freedom breeds terror. He is not a madman but rather an intelligent, rational creature who skilfully experiments with human beings, just like Hitler or Stalin. And the horrific truth is that we understand him, because we all have the capacity to become such a monster. Even in a small provincial town, an ideological devil like Caligula could appear. As he cries out, when murdered: 'I am still alive'."

> Read the full interview with Detlev Glanert on Caligula
> Read more on Caligula at ENO

Glanert's newest opera, Solaris, based on the visionary sci-fi novel by Stanislav Lem, is premiered at the Bregenz Festival on 18 July. The production by Moshe Leiser and Patrice Caurier is conducted by Markus Stenz. In the orchestral sphere, Glanert's new Brahms-Fantasie for the BBC Scottish Symphony Orchestra was unveiled in Glasgow on 22 March under the baton of Donald Runnicles. January brought a tour of Insomnium by the German Youth Orchestra and the US premiere of Shoreless River from the National Symphony in Washington.


> Further information on Work: Caligula
Image: English National Opera
> News Search