Doctor Atomic: World Premiere Recording and Santa Fe Production
(May 2018)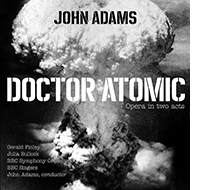 Doctor Atomic, John Adams's 2005 opera about the first atomic bomb explosion, receives its world-premiere recording on June 29, two weeks before Santa Fe Opera presents the opera in a production conducted by Matthew Aucoin.
On June 29, Nonesuch Records releases the first CD recording of
John Adams
's 2005 opera,
Doctor Atomic
. Adams himself conducts the BBC Singers and the BBC Symphony Orchestra in this recording, which features a cast led by Gerald Finley, who originated the role of Dr. J. Robert Oppenheimer, and Julia Bullock (Kitty Oppenheimer), who starred as Dame Shirley in Adams's recent opera
Girls of the Golden West
. The world premiere CD recording follows the DVD releases of the original Peter Sellars production seen in San Francisco, Amsterdam and Chicago (Opus Arte, 2008) and the Penny Woolcock production staged at the Metropolitan Opera and English National Opera (Sony Classical, 2011).
Doctor Atomic
concerns the final hours leading up to the first atomic bomb explosion at the Alamogordo test site in New Mexico in July 1945. The focal characters are the physicist and Manhattan Project director, Dr. J. Robert Oppenheimer; his wife Kitty; Edward Teller; and General Leslie Groves, US Army commander of the project.
The album was recorded in studio ahead of the BBC Singers and BBC Symphony Orchestra's April 2017 concert performance of the opera at the Barbican in London.
The Guardian
praised the performance: "Adams's conducting, second to none in his own music, had tremendous conviction and unique authority, with every facet of the score's terrible beauty laid bare … thrilling playing and choral singing … Gerald Finley conveyed Oppenheimer's moral agony with singing of great refinement and subtlety."
>
More information about the album
The world-premiere album of
Doctor Atomic
is released weeks before Santa Fe Opera stages the opera, with six performances between July 14 and August 16, 2018. The production is directed by librettist and longtime Adams collaborator Peter Sellars and conducted by Matthew Aucoin. The setting of the opera takes on particular significance as Santa Fe is located only about 30 miles from Los Alamos, New Mexico, the birthplace of the atomic bomb.
The role of Robert Oppenheimer is performed by Ryan McKinny (who also originated the role of Clarence in
Girls of the Golden West
). McKinny is joined onstage by Julia Bullock as Kitty Oppenheimer.
>
More information about Santa Fe Opera's production
> Further information on Work: Doctor Atomic
> News Search
Email Newsletters
Sign up for news updates and offers via email
SIGN UP
ONLINE SCORES