Einojuhani Rautavaara dies, aged 87
(July 2016)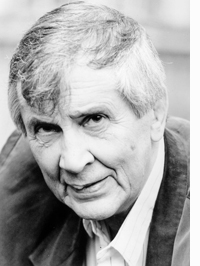 It is with deep sadness that we announce the death of Einojuhani Rautavaara (1928-2016), at the age of 87.
Einojuhani Rautavaara
died on the 27th of July in Helsinki at the age of 87. He was the leading Finnish composer of his generation and a visionary successor to Sibelius. His wide-ranging and prolific output included eight symphonies, seven operas, vocal and choral works, chamber and instrumental music as well as numerous concertos and orchestral pieces.
Rautavaara was born in Helsinki in 1928 and studied with Aarre Merikanto at the Helsinki Academy (1948-52), with Vincent Persichetti at the Juilliard School in New York (1955-56), and with Roger Sessions and Aaron Copland at Tanglewood (1955). He first came to international attention in 1955 when the neo-classical
A Requiem in Our Time
for brass and percussion won the Thor Johnson Composer's Competition in Cincinnati. He studied serialism and soon integrated twelve note techniques, without displacing his essential Romanticism.
In the late 1960s Rautavaara distanced himself from serialism and his mystical character came to the fore with music of rich colour and sweeping melodies, at once accessible and evocative, as heard in his widely performed
Cantus Arcticus
(1972) and his 'Angel' series of orchestral works. His operas have often explored issues of creativity and madness, such as
Vincent
(1986-87),
Aleksis Kivi
(1995-96) and
Rasputin
(2001-03), and his symphonies and concerti were increasingly commissioned by orchestras outside his native Finland, including
Symphony No.8 'The Journey'
(1999) for the Philadelphia Orchestra, a
Harp Concerto
(1999-2000) for the Minnesota Orchestra and a
Clarinet Concerto
(2001-02) for Richard Stoltzman and the National Symphony in Washington.
Works by Rautavaara over the past decade include the orchestral work
Tapestry of Life
(2007), the concertos
Incantations
for percussionist Colin Currie (2008),
Towards the Horizon
for cellist Truls Mørk (2008-09), and
Summer Thoughts
(2008) toured by violinist Midori. His
Missa a cappella
(2010-11) received first performances in the Netherlands, Australia, the UK, Sweden and Germany and
Into the heart of light
(2011), composed for the Ostrobothnian Chamber Orchestra, was toured by the Scottish Chamber Orchestra in 2012.
Balada
for choir and orchestra, setting texts by Lorca, was premiered in Madrid in 2015. The last work to be premiered during his lifetime was
Orpheus singt
, a setting of Rainer Maria Rilke for a cappella chorus performed on 25 June 2016 by the SWR Vokalensemble Stuttgart at the Ludwigsburger Schlossfestspiele, under the direction of Marcus Creed.
The coming season brings the world premiere of Rautavaara's
Fantasia
for violin and orchestra in Kansas City on 24 March with Anne Akiko Meyers and the Kansas City Orchestra under Michael Stern.
>
Listen to music by Rautavaara
Photo: Ondine
> News Search
Email Newsletters
Sign up for news updates and offers via email
SIGN UP
ONLINE SCORES