Elena Kats-Chernin rescores Monteverdi opera trilogy
(December 2012)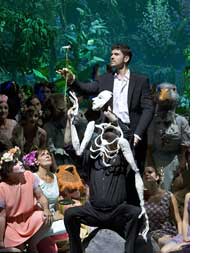 The Komische Oper opened its season with a Monteverdi trilogy in new scorings by Elena Kats-Chernin.
Barrie Kosky launched his tenure as director of the Komische Oper in Berlin with bold productions of Monteverdi's three great operas in new arrangements by
Elena Kats-Chernin
. The season's first night offered '
Orpheus
,
Odysseus
and
Poppea
' at a single, marathon twelve-hour sitting and the productions were broadcast live on German television.
Kats-Chernin realised the soundworld for each opera at a distance from its Baroque origins, with
Orpheus
resounding to Balkan, Arab and African colours,
Odysseus
spiced with tango flavours, and
Poppea
employing pop idioms and closing the final lovers' duet with a lone electric guitar.
Kats-Chernin described how the music for the project developed, moving the dramas into a contemporary, globalised context: "Monteverdi himself was very interested in other worlds, and that was sparked by journeys.
Odysseus
is about journeys, and the fact that the world is far away. And for that reason, such strange sounds were very important for us. This global reimagining doesn't only employ classical instruments but has allowed us to use quite different elements, so that Monteverdi is as enriched as possible."
"Like Kosky, Kats-Chernin is a stylistic all-rounder, who responds to Monteverdi's musical structure in an intelligent way, transforming it in tonal terms and condensing it through daring cuts. She achieves this by using an exotic, colourful, odd assortment of instruments – the basso continuo is overlaid with strange tone colours and additive notes which, similar to blue notes, load the harmony atmospherically. And so, early Baroque operas become multi-cultural musical events which nevertheless don't disown their creator Monteverdi for a single moment."
D
e
utsche Bühne
> Further information on Work: Orpheus
Photo: Komische Oper/DRAMA
> News Search
Email Newsletters
Sign up for news updates and offers via email
SIGN UP
ONLINE SCORES