Elliott Carter: Three World Premieres, Three U.S. Premieres to Celebrate 103rd Birthday
(November 2011)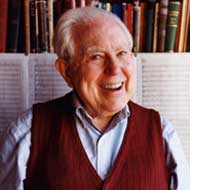 World Premieres of String Trio, A Sunbeam's Architecture and Three Explorations; U.S. Premieres of Trije glasbeniki, Retracing III and Double Trio
For more than eight decades, Elliott Carter (b. 1908) has produced some of the most masterful musical creations for orchestras and chamber music ensembles, and continues to do so today. In celebration of his 103rd birthday (December 11), three world premieres, three U.S. premieres and other selected recent works by the iconic American composer will be performed in two concerts, December 8, 2011 at 92nd Street Y and December 12, 2011 at Alice Tully Hall. Following these three world premieres, a total of seven new works will have been debuted in 2011 alone, all written since 2009.

A special portrait concert will be presented on December 8 at New York's 92nd Street Y, organized by Fred Sherry, Artistic Director. This celebratory event features two world premieres, and three U.S. premieres alongside six solos and duets composed between 1992 and 2009 for Carter's close musical friends. The first of the world premieres, String Trio (2011), spotlights the viola and is dedicated to the evening's performers: violinist Rolf Schulte, violist Richard O'Neill and cellist Fred Sherry. The largest of Carter's newest compositions is A Sunbeam's Architecture (2010) for tenor and chamber orchestra, inspired by the poetry of E.E. Cummings during the period of World War I and incorporating selected texts by the poet, and featuring tenor Nicholas Phan.

Of the three U.S. premieres, the first to be performed in the program is a trio for flute, bass clarinet and harp, Trije glasbeniki (2011). The work title is Slovenian for "three musicians" and is dedicated in part to Virgil Blackwell, who performs it at this performance with Marie Tachouet and Bridget Kibbey. Peter Evans performs the U.S. premiere of Retracing III (2009) for solo trumpet. Both Trije glasbeniki and Retracing III are to be premiered at Slovenia's Slowind Festival in November, which is honoring Carter's life and works. The last of the territorial premieres is Double Trio (2011) which was first performed in October 2011 in celebration of the inaugural concert at the Bourgie Concert Hall at Montréal's Museum of Fine Arts. Double Trio is scored for trumpet, trombone, percussion, piano, violin and cello. Other works on the program at 92nd Street Y include Bariolage (1992) for solo harp; Duettino (2008) for violin and cello; Figment IV (2007) for solo viola; Figment V (2009) for solo marimba; Hiyoku (2001) for two clarinets; and Retracing (2002) for solo bassoon. The musicians performing each of these works comprise several virtuosos and champions of Carter's complex music, including bassoonist Peter Kolkay, clarinetist Charles Niedich, double bassist Donald Palma, and oboist Stephen Taylor. Ryan McAdams will conduct A Sunbeam's Architecture and Double Trio.

The third of the new compositions by Carter comes on December 12 at Lincoln Center's Alice Tully Hall. Leading the world premiere of Three Explorations (2011) is The Juilliard School's AXIOM Ensemble, conducted by Jeffrey Milarsky and featuring bass-baritone Evan Hughes. This work is scored for solo baritone, winds and brass, and features lyrics drawn from one of T. S. Eliot's final collection of poems, Four Quartets. Both A Sunbeam's Architecture and Three Explorations are examples of song cycles which Carter has composed in recent years setting texts by great and celebrated American poets to music.

> For more information about Elliott Carter, click here.
> To view scores of works by Elliott Carter, click here.
> To watch videos of Elliott Carter talk about his life on work, click here.

Photo Credit: Meredith Heuer
> News Search
Mailing List
Sign up for news updates and offers via email
SIGN UP
ONLINE SCORES