Elliott Carter: UK premieres at Aldeburgh Festival
(March 2016)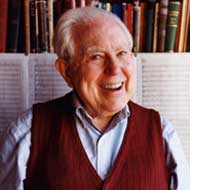 Two late song-cycles by Elliott Carter, The American Sublime and A Sunbeam's Architecture, receive their UK premieres at the Aldeburgh Festival in June, conducted by Oliver Knussen.
The last major UK premieres by American composer
Elliott Carter
, who died in 2012, take place at the Aldeburgh Festival in June in performances conducted by Oliver Knussen, a leading exponent and champion of the composer's music. Carter's late song-cycles
The American Sublime
and
A Sunbeam's Architecture
are performed by baritone Benjamin Appl with players from the BBC Symphony Orchestra on 17 June, and by tenor Robert Murray and the Britten Sinfonia on 23 June.
The American Sublime
sets five poems by Wallace Stevens for baritone and a large ensemble of 17 instrumentalists comprising wind, brass, piano and percussion. In his final decade the composer was particularly drawn in his vocal works to American poets active in the interwar era. The song-cycle was the final work of Carter's to be posthumously premiered in 2013, the year following his death, with James Levine conducting the MET Chamber Ensemble at Carnegie Hall in New York.
A Sunbeam's Architecture
is scored for tenor and chamber orchestra and sets six poems by e e cummings dating from the First World War years. The cycle opens with the poet cast into dizziness at the novelty of hearing the voice of his love via the newly available telephone "over time and tide and death". The title is drawn from the second song in which a poet's role is defined, amidst the interruption of war, as one "who'll solve the depths of horror to defend a sunbeam's architecture with his life". The work's premiere was at a special 103rd birthday concert for Carter in New York in 2011, which was recorded live and has been released on DVD video by NMC.
The Aldeburgh Festival first established close links with Elliott Carter in 1987 when Oliver Knussen conducted the European premiere of his orchestral fanfare
A Celebration of some 100 x 150 notes
. Following decades included the world premiere of his song-cycle
Of Challenge and of Love
, commissioned by the Aldeburgh Festival, notable performances of
Penthode
conducted by Knussen and
Three Occasions for Orchestra
conducted by George Benjamin and the European premiere of Carter's
Cello Concerto
. Further works commissioned from Carter in his final years included
On Conversing with Paradise
premiered under the baton of Knussen in 2009 ,
What Are Years
conducted by Pierre Boulez in 2010,
Two Controversies and a Conversation
with soloists Pierre-Laurent Aimard and Colin Currie conducted by Knussen in 2012 and his final work
Epigrams
in 2013. UK premieres at Aldeburgh in recent years have also included
Interventions
with pianist Pierre-Laurent Aimard in 2012 and Carter's final chamber orchestra work
Instances
in 2014.
Other Carter highlights in June include the Brazilian premiere of the
Oboe Concerto
with Heinz Holliger and the São Paulo Symphony Orchestra, and a new staging of his one-act opera
What Next?
by Deutsche Oper am Rhein in Duisburg.
> Further information on Work: A Sunbeam's Architecture
Photo: © Meredith Heuer
> News Search
Mailing List
Sign up for news updates and offers via email
SIGN UP
ONLINE SCORES