Elliott Carter: World Premiere of Two Controversies and a Conversation
(June 2012)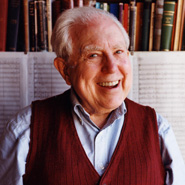 David Robertson, a Carter champion, leads work at New York Philharmonic
American composer
Elliott Carter
remains busy at work, as his new chamber orchestra work
Two Controversies and a Conversation
receives its world premiere in June 2012. Co-commissioned by the New York Philharmonic, the Aldeburgh Festival and Radio France,
Two Controversies and a Conversation
showcases the percussive aspects of the piano, highlighting the instrument alongside a solo percussionist and a chamber orchestra. The world premiere takes place during the New York Philharmonic's
CONTACT!
series, June 8 and 9, led by conductor David Robertson, featuring pianist Eric Huebner and percussionist Colin Currie.
An earlier version of this work, titled
Conversations
, was premiered in the UK in the summer of 2011. Notes the composer: "After the premiere of
Conversations
at the Aldeburgh Festival in June of 2011, Oliver Knussen suggested that I expand this piece. I decided to add two more movements, which became the two controversies. The first of the two controversies has the percussion in the leading role and the second features the piano which ends the movement in a flourish." The Sunday Times of London said of the earlier version: "Carter's late, late style in its tersest distillation. No words are wasted in a conversation notable nonetheless for urbanity and wit, for a vigorous responsiveness and a lack of any wistfulness."
The world premiere of
Two Controversies and a Conversation
marks the tenth work to be premiered in the last year, since June 2011, including
Conversations, Double Trio, Trije glasbeniki, Retracing III, A Sunbeam's Architecture, String Trio, Mnemosyné, Rigmarole,
and
Three Explorations.
Carter's only operatic work,
What Next?
, will be premiered in Australia in August 2012 by the Victorian Opera Company in Melbourne. Next season, conductor Ludovic Morlot and the Seattle Symphony will premiere another new work by Carter, titled
Instances
.
>
Further information on Elliott Carter

>
Further information on work: Two Controversies and a Conversation
>
View the score of Two Controversies and a Conversation
>
Watch a video of Elliott Carter discussing Two Controversies and a Conversation
> For further information about the world premiere of the work at the New York Philharmonic,
click here
.
Photo credit: Meredith Heuer
> News Search
Email Newsletters
Sign up for news updates and offers via email
SIGN UP
ONLINE SCORES