Enrico Chapela: from wartime Mexico to the cosmos
(September 2016)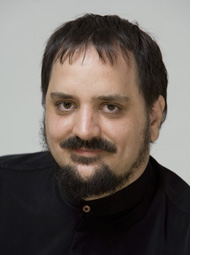 Subjects for Enrico Chapela's newest works have ranged from First World War politics to a planetary motion machine and the prospect of life on our solar system's moons.
This summer has seen Mexican composer
Enrico Chapela
's music toured by the German Youth Orchestra under Alondra de la Parra, including the German premiere of his electric cello concerto
Magnetar
with soloist Johannes Moser at the Berlin Konzerthaus and the world premiere of
Zimmergramm
at the BeethovenFest in Bonn. The new 20-minute work, described by the composer as a 'mini-opera', was commissioned by Deutsche Welle and saw the orchestra joined by soloists and the LandesJugendChor NRW. The tour also included the German premiere of the mixed octet
Acoussence
in Berlin.
Zimmergramm
takes its title from the wartime telegram sent by Germany's Foreign Secretary Arthur Zimmermann to its ambassador in Mexico City in 1917, proposing that Mexico join Germany against its longtime regional rival the USA. The communication was decrypted by British intelligence and the diplomatic fallout contributed to America joining the Allies against Germany. The three 'acts' of Chapela's score counterpoint folk music recreations from Mexican revolutionary times with the political dialogues in a contemporary idiom.
Two new orchestral works are premiered in Mexico in the coming months.
Antikythera
, commissioned by the Orquesta Filarmónica Boca del Rio and unveiled on 4 November under the baton of Jorge Mester, draws musical inspiration from the 2000-year-old mechanism discovered in a shipwreck off the Greek island, whose gears could simulate planetary motion.
Astronomy is also central to
Lunática
, commissioned by the UNAM Philharmonic for premiere in Mexico City on 17 December, which explores the spectral data from the 184 moons discovered in our solar system, predicting chemical conditions where organic life might be possible.
> Further information on Work: Zimmergramm
Photo: Bernd Uhlig
> News Search
Mailing List
Sign up for news updates and offers via email
SIGN UP
ONLINE SCORES