Enrico Chapela's New Flute Concerto Gets World Premiere
(November 2015)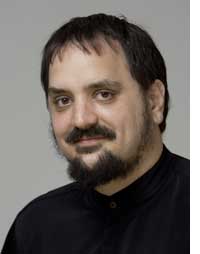 Mexican composer Enrico Chapela saw regional premieres of his works in his native country in October, and also the world premiere of his new flute concerto, Tetracrómatas.
Mexico recently gave star treatment to one of its most forward-thinking composers this past October.
Enrico Chapela
, referred to as a "benchmark of contemporary Mexican music" by
La Jornada
, saw the Mexican premieres of two works,
Acoussence
and
MAGNETAR
, as well as the world premiere of his concerto for amplified flute,
Tetracrómatas
.
Tetracrómatas
, premiered on 18 October by soloist Alejandro Escuer, joined by the Orquesta Sinfónica de la Universidad de Guanajuato, is inspired by the anatomy of the human eye and its ability to differentiate ranges of wavelengths, translating into the color palette we see. Commenting on the variation in cones in the human eye, Chapela notes "mutations not only compromise perception, in some cases they open portals to higher dimensions. Cones can be transmuted to perceive other wavelengths far beyond the normal visible spectrum. There are women with mutations in their two copies of the X chromosome that have a fourth type of cone, capable of perceiving ultraviolet light. These extraordinary women are called tetrachromats... They can see invisible shades in coral reefs that only sea floor dwellers can, seductive petal patterns designed for bees and hummingbirds, faded tracks on desert sand that reveal deep, hidden prey. Ignored by science until recently, tetrachromats have been among us forever, insisting that the bucket's color is not the same as the wall's, objecting to 'true white' in white wedding gloves, refusing to concede that shrouds of darkness turn all cats grey."
The soloist for the work uses four distinct flutes of different sizes, representing the colors perceived by the four types of cones. The musical material is extracted from the wavelengths corresponding to the four primary colors seen by tetrachromats.
N3RVIO
Magazine noted, "This piece (
Tetracrómatas
) — commissioned by the Cervantino Festival — is, in simple terms, daring and voluptuous; adapted to the modernity and flexibility of the 21st Century. […] Chapela is a composer who has crossed the limits sometimes imposed by the world of contemporary music and has ventured to exploit levels of genius."
MAGNETAR
, first performed in 2011 by Johannes Moser and the Los Angeles Philharmonic under the baton of Gustavo Dudamel, is written for electric cello and orchestra. Johannes Moser joined Ivan del Prado and the Orquesta Filarmónica de la UNAM on 24–25 October in Mexico City for the recent Mexican premiere. "The electric cello is an electromagnetic instrument," says Chapela. "The kinetic energy of the strings is transformed into electromagnetic energy that can be manipulated in numerous ways before being reconverted into sound. This is the main feature of this instrument and the very source of its amazing power, so I decided to find the biggest possible magnet to base my work on. Reading some articles online, I learned about the existence of some rare type of pulsars that had the biggest magnetic fields in the universe known as MAGNETARS." After incorporating data from several magnetars as properties in the work, Chapela consulted with Johannes Moser to finalize the three-movement concerto. At the Mexican premiere on 24 October,
El Economista
noted the success of the work was "demonstrated with a standing ovation and applause of more than three minutes to a public more than satisfied."
Two days earlier, on 22 October, Chapela's mixed octet,
Acoussence
(composed in 2012), was also given its Mexican premiere in Mexico City by the London Sinfonietta with Garry Walker conducting.
Acoussence
— a portmanteau of 'acoustic' and 'essence' — is based on the idea of perfumery as an art. Chapela comments on the idea behind the composition: "Looking how to compose music based on perfumery, I got my hands on a specialized book, from where I learned that traditional perfumes are made from three sets of substances: the more volatiles, lasting only minutes (high notes), the ones that last all day or central theme (mid notes), and the base of the perfume (low notes), that prevail several days." Chapela researched scents to match the music for his score, leading to five aromatic accords found in most perfumes: woods, herbs, flowers, fruits, and seeds. The five movements of
Acoussence
correspond to these five aromatic accords. He notes: "I used these pitches and rhythms to compose the music, seeking to evoke the general impression that each aromatic accord invoked on me."
The London Sinfonietta gave an additional performance of
Acoussence
on 24 October in Guanajuato, a stop on a recent international tour.
> Further information on Work: Tetracrómatas
> News Search
Mailing List
Sign up for news updates and offers via email
SIGN UP
ONLINE SCORES