Ersteinspielung von Strawinskys Chant funèbre
(December 2017)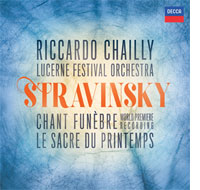 Die erste Einspielung von Igor Strawinskys kürzlich wiederentdecktem Chant funèbre erscheint, wie das Label bekanntgab, in Kürze bei Decca. Das Album ausschließlich mit Werken Strawinskys, mit Riccardo Chailly am Pult des Lucerne Festival Orchestra, kommt am 12. Januar in den Handel.
Aus der Pressemeldung des Labels:
Ein Werk von Igor Strawinsky, das viele für immer verschollen hielten, wird spektakulär wieder zum Leben erweckt: Decca Classics präsentiert die Weltersteinspielung des vor kurzem wieder aufgetauchten Chant funèbre (Klagelied/Pogrebal'naya Pesnya). Das historisch bedeutsame neue Album soll am 12. Januar 2018 erscheinen, zu hören sind der weltberühmte Dirigent Riccardo Chailly sowie das Lucerne Festival Orchestra – es ist ihr gemeinsames Debütalbum und der Anfang einer spannenden neuen Zusammenarbeit. (...)

Strawinsky komponierte Chant funèbre, ein 10-minütiges Werk für Sinfonieorchester, im Sommer 1908 (damals war er 26) zum Gedenken an seinen geliebten Lehrer Nikolai Rimsky-Korsakow; als op. 5 stellt es das fehlende Glied zwischen Scherzo Fantastique op. 3, Feu d'artifice op. 4 (beide sind auf dem neuen Album zu hören) und seinem Ballett Der Feuervogel dar. Letzteres schrieb er für Djagilews "Ballets Russes" und schaffte damit seinen internationalen Durchbruch.
Chant funèbre galt als verschollen, weil Stravinsky in seinen Memoiren Chroniques de ma vie notierte: "Unglücklicherweise ist die Partitur dieses Werkes während der Revolution in Russland verlorengegangen, wie so vieles andere, das ich dort gelassen habe." Das Werk wurde allerdings 2015 dank der Musikwissenschaftlerin Natalia Braginskaja und der Bibliothekarin Irina Sidorenko vom St. Petersburger Konservatorium wiedergefunden. Bei Renovierungsarbeiten am alten Konservatorium wurde ein vollständiger Satz nicht-katalogisierter Orchesterstimmen von Chant funèbre in einem Hinterzimmer des Archivs entdeckt, identifiziert und anschließend in Zusammenarbeit mit Strawinskys Verleger Boosey and Hawkes rekonstruiert, so dass nun eine vollständige Partitur für Live-Darbietungen vorliegt.
Im Dezember letzten Jahres fand die erste Aufführung in 107 Jahren von Strawinskys Chant funèbre unter dem Dirigat von Valery Gergiev am Mariinsky-Theater in St. Petersburg statt. Nur ein paar Monate später wurde das Werk mit Chailly und dem Lucerne Festival Orchestra eingespielt – dies stellte gleichzeitig das erste Album der neuen Partner dar. Die Aufnahme fand am 19. August 2017 bei Lucerne Festival im Sommer statt.
Dr. Alexander Buhr, Managing Director von Decca Classics: "Es ist ein seltenes Glück, dass man ein neues Stück von einem der größten Komponisten entdeckt, besonders, wenn es sich um ein Werk von solcher Qualität und historischer Bedeutung wie Strawinskys Chant funèbre handelt. Es war eine Ehre mit Maestro Chailly, dem Lucerne Festival Orchestra und Boosey & Hawkes an dieser Weltersteinspielung zusammenzuarbeiten, und wir sind stolz auf diesen weiteren Meilenstein im reichen Decca-Katalog." (...)

Chailly und das Lucerne Festival Orchestra präsentieren eine spannende neue Interpretation von Strawinskys Chant funèbre. Auf diesem neuen Album ist das Klagelied zusammen mit Strawinskys drei vorangegangenen Orchesterwerken zu hören und bietet so den Hörern die Möglichkeit, auf den Spuren des jungen Komponisten zu wandeln, hin zu weltweitem Erfolg. Strawinsky selbst hielt es für "meine beste Arbeit vor dem Feuervogel und die fortschrittlichste in Bezug auf chromatische Harmonie". Nun können sich Hörer auf der ganzen Welt von seiner musikalischen Bedeutung überzeugen, dank der Veröffentlichung dieser historischen Weltersteinspielung.

"Ein überwältigendes Strawinsky-Programm. Für das Lucerne Festival Orchestra hat wahrhaftig eine neue Ära begonnen" – The Times

Titelliste:
[1] Chant funèbre, op. 5 (Klagelied)
[2] Feu d'artifice, op. 4 (Feuerwerk)
[3] Scherzo fantastique, op. 3
[4]-[6] Le Faune et la bergére, op. 2 (Faun und Schäferin) [Mezzosopran: Sophie Koch]
[7]-[20] Le Sacre du printemps (Das Frühlingsopfer)

*

> Hören Sie hier einen Ausschnitt aus der neuen Einspielung
> Hier klicken, um die Decca-Einspielung vorzubestellen

Eine Studienpartitur des Chant funèbre (unter dem englischen Titel Funeral Song) ist bei Boosey & Hawkes erschienen und kann im Musikalienhandel bestellt werden oder auch online im Shop auf Boosey.com.
> Further information on Work: Funeral Song (Pogrebal'naya Pesnya)

Boosey & Hawkes Composer News