Finzi: Magnificat and stained glass in Gloucester
(January 2016)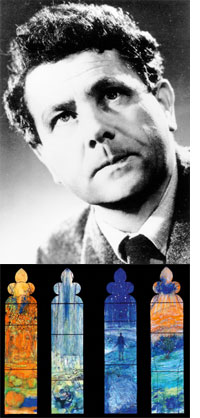 Events honouring the 60th anniversary of Gerald Finzi's death include performances of a new edition of his Magnificat, with a specially commissioned Gloria and Nunc dimittis by David Bednall, and the unveiling of a commemorative window at Gloucester Cathedral.
In consultation with Adrian Partington, Director of Music at Gloucester Cathedral, the Finzi Trust has commissioned the outstanding young British composer and organist David Bednall to write a
Nunc dimittis
and
Gloria
to twin with the
Magnificat
which Gerald Finzi wrote in 1952 for Smith and Amherst Colleges, Massachusetts.
Finzi generally composed in a reflective manner, tending to revisit and revise before submitting music for publication. His
Magnificat
, however, was composed to a tight deadline, something agreed by Finzi because he was eager to complete a first overseas commission. The work finishes with a brief but beautiful '
Amen
', rather than with a traditional
Gloria
, since the music was not to be premiered liturgically. When the work has subsequently been sung during Evensong, it has been paired with an independent setting of the
Nunc dimittis
, that by Holst being commonly used.
With a performance of the
Magnificat
intended as part of the Evensong programme for the 2016 Gloucester Three Choirs Festival, the Finzi Trust felt that this 60th anniversary of the composer's death marked not only a public opportunity to continue the practice of artistic support for emerging talent which Finzi and his wife demonstrated throughout their lives, but also a chance to enable greater liturgical usage of a striking choral work through provision of an added
Gloria
, together with a
Nunc dimittis
specifically intended as a companion piece. The world premiere of the new setting takes place at Evensong in Gloucester Cathedral on 6 March directed by Adrian Partington, and the Three Choirs join together for a festival performance in Gloucester on 29 July.
With his compositional facility, experience as a cathedral organist and love of 20th century English music, David Bednall is ideally suited to write music which will not only have individual power of expression but also blend sympathetically with Finzi's eloquence.
David Bednall comments: "I'm greatly honoured to be commissioned by the Finzi Trust to write a new
Gloria
and
Nunc dimittis
to go with Finzi's beautiful
Magnificat
- Finzi has always been one of my favourite composers so it's wonderful to be asked to do this."
Gloucester also provides the situation for a new commemorative stained glass window by artist Tom Denny to be unveiled on 25 June. Commissioned by the Finzi Trust, the new window in the North Chantry Chapel in Gloucester Cathedral is appropriately positioned adjacent to the existing window commemorating Ivor Gurney, the composer that Finzi did so much to champion. The painter and stained glass artist Tom Denny is creating the eight-panelled Finzi window following his recent project in Leicester Cathedral commemorating the re-interment of King Richard III.
Tom Denny comments: "Gerald Finzi was extraordinary in the sensitivity and inventiveness of his "collaborations" with other artists, music emerging from the words of Hardy, Traherne, Wordsworth. This music, while full of veneration for the text, is a new thing, clear and beautiful. It seems appropriate, therefore, that Finzi should be commemorated in another medium, stained glass, which, like song, has its own mysterious balance of narrative and abstract qualities."
Finzi's 60th anniversary year is launched with three performances of the
Clarinet Concerto
by the Philharmonia Orchestra at the Anvil in Basingstoke (23 Jan), the Royal Festival Hall in London (24 Jan) and St David's Hall in Cardiff (7 Feb) with soloist Mark van de Wiel conducted by John Wilson. Roderick Williams sings Finzi's Shakespeare setting
Let us Garlands bring
on 9 March at Southwark Cathedral with the City of London Sinfonia conducted by Stephen Layton.
>
Finzi Trust

>
David Bednall
>
Tom Denny
> Further information on Work: Magnificat
Photo by Angus McBean, Stained Glass design by Tom Denny
> News Search
Mailing List
Sign up for news updates and offers via email
SIGN UP
ONLINE SCORES