Ginastera centenary highlights announced for 2016
(October 2015)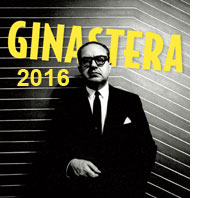 The centenary of composer Alberto Ginastera is celebrated in 2016 with opera and orchestral performances around the world.
Alberto Ginastera
, born in Argentina on 11 April 1916, captured the spirit of the Pampas and the life of the gauchos in his early works, establishing an authentic South American compositional voice. He went on to develop an expressive and richly coloured modern style through a series of concertos and orchestral scores. Despite a chain of major commissions in North America and final years spent in Europe, the Argentinian folk music of his youth and his vividly imagined pre-Columbian world continued to feed his creative life.
The Teatro Colón in Ginastera's native city of Buenos Aires opens its 2016 season with a new production of his opera
Beatrix Cenci
in March, followed by ten concerts including performances by the Buenos Aires Philharmonic under Enrique Diemecke. Gustavo Dudamel conducts
Piano Concerto No.1
internationally with Sergio Tiempo as soloist, including performances in March by the Los Angeles Philharmonic on tour to Lincoln Center in New York, the Barbican in London and the Philharmonie in Paris. The Chamber Music Society of Lincoln Center presents all three of Ginastera's string quartets in April played by the Miró Quartet. As an upbeat to the centenary the
Harp Concerto
is performed this autumn by the Chicago Symphony under Riccardo Muti and on a tour by the BBC National Orchestra of Wales to Argentina and Chile.
In Europe a new staging of
Bomarzo
by Pierre Audi is unveiled by the Teatro Real in Madrid in its 2016/17 season and travels on to Dutch National Opera in Amsterdam in a future season. Other highlights include the
Violin Concerto
and
Ollantay
in Madrid, the
Harp Concerto
performed by Marie-Pierre Langlamet and the Berlin Philharmonic, an all-Ginastera concert by the Polish National Radio Symphony in Katowice,
Popol Vuh
with lighting installation by the celebrated designer rosalie in Karlsruhe, and the recently restored
Concierto Argentino
in Stavanger. Barbara Nissman, one of Ginastera's most ardent champions, performs a celebratory piano recital at Kings Place in London in the birthday month of April.
New discs in honour of the centenary include a major cycle of ballets, piano concertos and orchestral works recorded by the BBC Philharmonic and Juanjo Mena for Chandos, and the premiere recording of
Music from Bomarzo
on an all-Ginastera disc from Capriccio. The first recording of Ginastera's intense hour-long oratorio
Turbae
is promised for release by Trinity Wall Street, drawing upon an acclaimed performance in New York earlier this year and alongside a centenary series with 15 Ginastera works planned for 2016.
Boosey & Hawkes has been undertaking intensive editorial work to prepare Ginastera materials for the centenary year. Newly engraved scores and orchestral parts are now available for
Dances from Estancia
, the
Harp Concerto, Bomarzo
and
Don Rodrigo
and new publications of scores of
Piano Concerto No.2
,
Estudios Sinfonicós
,
Popol Vuh
and
Turbae
are in preparation.
If you would like to discuss repertoire or have your performance of a Ginastera work included in our web calendar please contact your local Boosey & Hawkes office:
composers.us@boosey.com
,
composers.uk@boosey.com
,
composers.germany@boosey.com
.
Photo: Annemarie Heinrich
> News Search
Email Newsletters
Sign up for news updates and offers via email
SIGN UP
ONLINE SCORES