Ginastera centenary: new guide with CD sampler
(April 2014)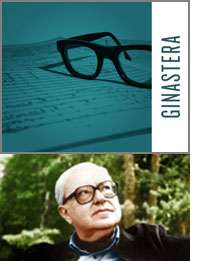 As the 2016 centenary of the birth of Alberto Ginastera approaches, Boosey & Hawkes has produced a new guide with CD, exploring the Argentinian-born composer's music.
A new guide to
Alberto Ginastera
, now available from Boosey & Hawkes, includes an introduction to the composer's output by scholar Deborah Schwartz-Kates, programming information and details of scoring, offering the perfect way to rediscover his music as we approach the centenary in 2016.
The 27 tracks of the accompanying sampler CD take us from the early nationalistic folk-influenced works such as
Panambí
and
Estancia
, through the colourful modernism of the middle years dominated by orchestral and stage works, to the heightened lyricism of his final decade.
The new guide is bilingual in English and Spanish, and a separate German edition is also available. If you are a promoter or performer and would like to request a printed copy please email your local Boosey & Hawkes office:
composers.uk@boosey.com
composers.us@boosey.com
composers.germany@boosey.com
You can also download the guide to view the texts on screen:
>
www.boosey.com/downloads/Ginastera_TXT_ES.pdf
(English/Spanish)
>
www.boosey.com/downloads/Ginastera_TXT_EG.pdf
(English/German)
We are very happy to discuss Ginastera repertoire suggestions, and if you let us know of your plans as the centenary approaches, we can include details on our web calendar.
> News Search
Mailing List
Sign up for news updates and offers via email
SIGN UP
ONLINE SCORES