Ginastera: new Bomarzo staging at Teatro Real in Madrid
(April 2017)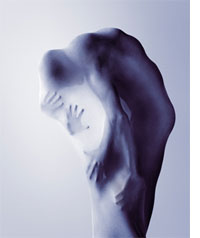 A new production of Alberto Ginastera's opera Bomarzo opens at the Teatro Real in Madrid on 24 April. This final event celebrating the composer's centenary last year is staged by Pierre Audi in the 50th year since the opera's premiere in 1967.
Alberto Ginastera
's opera
Bomarzo
returns to the stage this month with its first European staging for 40 years. Pierre Audi's new production for the Teatro Real in Madrid, as part of the opera house's bicentennial celebrations, opens on 24 April for a run of five performances. David Afkham conducts with a cast including John Daszak in the title role of Duke Pier Francesco Orsini, who in the 16th century created a fabled garden of stone monsters, reflecting his increasingly fractured psychological condition. The staging is complemented by a series of concerts, talks and workshops exploring Latin American themes, together with a
Bomarzo
exhibition at the Biblioteca Nacional. Pierre Audi's production is shared with Dutch National Opera and will travel to Amsterdam in a future season.
Bomarzo
, the second of Ginastera's three operas, was commissioned by the Opera Society of Washington for premiere in 1967. The composer worked with Argentinian writer Manuel Mujica Lainez, who adapted his novel
Bomarzo
into an opera libretto telling the anguished life story of the deformed 16th century Italian duke Pier Francesco Orsini. Spurned in love and consumed by jealousy, he demanded the creation of a series of fantastical sculptures for his 'park of monsters', in the woods beneath his castle. The darker overtones of the gardens increased as they fell into neglect over the centuries, before being discovered by surrealist artists including Salvador Dali and writers including Jean Cocteau, leading to restoration during the 20th century.
Ginastera was particularly drawn to the psychological aspects of Lainez's novel, with its themes of revenge, murder, jealousy and lust. His musical style in the 1960s is rich in microtonal and aleatoric techniques, providing a vivid theatrical backcloth to the vocal writing, at turns lyrical, passionate and anguished. The opera's hallucinatory flashbacks and scenes of debauchery caused a press sensation, resulting in the Argentinian government banning the opera from performance. In addition to stagings in New York, Kiel, Zürich and London,
Bomarzo
finally reached the Teatro Colón in Buenos Aires in 1972 and enjoyed a new production there in 2003.
Ginastera's Catalan roots led to a deep affection for Spain and its cultural history. The
Sinfonia Don Rodrigo
, drawing upon his first opera, was commissioned by the Instituto de Cultura Hispánica de Madrid and premiered there in 1964. The following year brought a performance of his
Cantata Bomarzo
at the ISCM Festival in Madrid. The city hosted a festival in Ginastera's honour in 1977 and a work commissioned from King Juan Carlos of Spain was left unfinished at the composer's death.
Events in Madrid linked to the
Bomarzo
production, include a Ginastera concert at the Reina Sofía Music School on 6 April with
Canciones populares argentinas
for tenor and piano,
Danzas Argentinas
for piano,
Piano Sonata No.1
, and
String Quartet No.1
, together with works by Villa-Lobos and Piazzolla. A three-concert Ginastera series, describing the composer's journey 'from nationalism to magic realism', is hosted by the Fundación Juan March on 19 April, 3 May and 10 May, including
Puneña No.2
,
Malambo
,
Danzas Argentinas, Piano Sonata Nos.1
and
3
and
String Quartets Nos.1
and
2
, with artists including cellist Nicolas Altstaedt, pianist Horacio Lavandera and the Cuarteto Latinamericano. A
Bomarzo
exhibition at the Biblioteca Nacional de España documents the characters and times of Ginastera's opera, including the Orsini, Colonna and Farnese families, poets of the period, and the mannerist artists that created the statues and buildings in the Bomarzo park.
>
Teatro Real website
>
Escuela de Música Reina Sofía
>
Fundacion Juan March
>
Biblioteca Nacional
> Further information on Work: Bomarzo
> News Search
Email Newsletters
Sign up for news updates and offers via email
SIGN UP
ONLINE SCORES