Ginastera: new CDs from string quartets to Popul Vuh
(March 2010)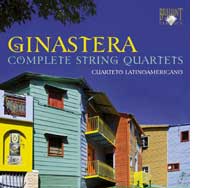 Ginastera: new CDs from string quartets to Popul Vuh
The discography of music by
Alberto Ginastera
has expanded over the past year, with a flood of new recordings and major reissues. Two rival complete sets of the Ginastera string quartets have appeared, with the Cuarteto Latinoamericano on Brilliant Classics (9119) - a welcome return of their Élan recording, and the Enso Quartet on Naxos (8.570780). The three quartets survey Ginastera's artistic journey, from Argentinian nationalism in the first, through a blend of modernism and Bartók-like folk idioms in the second, to serialism in the third which like Schoenberg's
String Quartet No.2
employs a soprano soloist - Claudiel Montiel on Brilliant and Lucy Shelton on Naxos:
"...it's the 1973 Third Quartet with soprano that's the most impressive achievement here, a compelling fusion of song cycle and instrumental work that interleaves settings of Spanish-language poets (Jiménez, Lorca and Alberti) within a musical world that alternates between febrile intensity and expansive lyricism."
The Guardian
Recordings of Ginastera's two cello concertos have been reissued by Pierian (0034), featuring the composer's second wife Aurora Natola-Ginastera, who championed both works and was the dedicatee of the second. This is a successor to the disc containing Ginastera's complete music for piano and chamber ensemble featuring Barbara Nissman, both reissues from Newport Classics (Pierian 0005/6). The collection ends with Natola-Ginastera and Nissman together in the
Cello Sonata
, widely regarded as one of the composer's finest achievements.
Naxos has recently reissued the Koch recording of Ginastera's
Glosses on Themes of Pablo Casals
with the London Symphony Orchestra conducted by Gisèle Ben-Dor. Composed by Ginastera as a tribute to his cellist friend on the occasion of his centenary, the work can be heard in both versions: for string quintet and string orchestra op.46 and for full orchestra op.48. The recording is completed by the Israel Chamber Orchestra in the energetic
Variaciones concertantes
, culminating in a virtuosic malambo, the typical 'jousting' dance of the gaucho.
April brings the release of a new Neos disc with two of Ginastera's most significant, if rarely performed, works (Neos 10918). The
Cantata para America magica
(1960) returns to the catalogue, with soprano Rayanne Dupuis surrounded by thirteen percussionists on more than 50 instruments, plus celesta and piano duo. The texts are Ginastera's own selection of apocryphal pre-Columbian sources, recast in modern terms by his first wife Mercedes de Toro. The mythical element is also central to
Popul Vuh
, his last orchestral work exploring the Mayan creation myth. Commissioned by the Philadelphia Orchestra it was unfinished at his death in 1983, only missing a movement for percussion alone, and remained unperformed. However the manuscript revealed that the seven movement torso offered a self-contained whole, and the work was premiered by the St Louis Symphony under Leonard Slatkin in 1989 and recorded for RCA the following year. The new recording, supported by the Fundacion BBVA, features the WDR Cologne Symphony Orchestra conducted by Stefan Asbury.
> Further information on Work: Popol Vuh
> News Search
Mailing List
Sign up for news updates and offers via email
SIGN UP
ONLINE SCORES