Ginastera's Beatrix Cenci in Buenos Aires
(February 2016)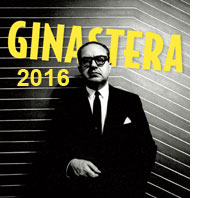 The Teatro Colón will mount a new production of Alberto Ginastera's third and final opera, Beatrix Cenci, this March in observance of the composer's centennial.
Alberto Ginastera
's operas are full-blooded affairs, steeped in the Italian opera tradition and influenced by earlier masterworks of the twentieth century. His third and final opera,
Beatrix Cenci
(1971), based on the historical Beatrice Cenci of Italy, goes above and beyond in its exploration of insanity and violent, disturbing family relationships. A reinterpretation of the traditional operatic preoccupations of love and death,
Beatrix Cenci
is viewed from a distinctly twentieth-century Freudian perspective. During the course of this compact and intense opera, running for 90 minutes without interval, the extreme situations of the characters take on a progressively surreal tone. Ginastera's orchestral mastery is to the fore, depicting the fevered Renaissance milieu of incest, rape, murder and, ultimately, execution, while his folk-inspired lyricism colors in the contrasted themes of love and compassion. In observance of Alberto Ginastera's centennial in 2016, the Teatro Colón in Buenos Aires will mount a new production of
Beatrix Cenci
15–20 March, conducted by Guillermo Scarabino and directed by Alejandro Tantanian.
From the synopsis of
Beatrix Cenci
: "Count Francesco Cenci, hated by the people and feared by his daughter Beatrix and his second wife Lucrecia, arranges a masked ball at which he intends to celebrate the death of his two sons. Beatrix seeks escape by sending a letter to the Pope with her former suitor, Orsino, who has taken Holy Orders, but Orsino tears up the letter. Dismayed at what the Count is celebrating, the guests leave despite the wishes of Beatrix, who is terrified to be left alone with her insane father. Orsino arrives, lies about delivering the letter, and claims that the Pope has rejected her plea. He leaves Beatrix to be raped by her father." Francesco is murdered and Beatrix implicated, only to be tortured and put to death herself.


Beatrix Cenci
features a libretto by William Shand and Alberto Girri, based on the
Chroniques italiennes
by Stendhal and
The Cenci
by Percy Shelley. It was commissioned for the opening of the Kennedy Center for the Performing Arts in Washington, D.C. and premiered there in 1971 by the Opera Society of Washington (now Washington National Opera), conducted by Julius Rudel. This was followed two years later by a staging at New York City Opera, and it received its Argentine premiere at the Teatro Colón in 1992. The opera was first performed in Europe by Geneva Opera in 2000.
For more information on this new production,
click here
.
The Teatro Colón will also host a series of concerts devoted to Ginastera's works, performed by the Buenos Aires Philharmonic, conducted by Enrique Diemecke. Works to be performed include the ever-popular
Dances from Estancia
, his Violin Concerto, Piano Concerto No. 1, and others. A further Buenos Aires highlight will be the return of Daniel Barenboim to his native city for concerts with the West-Eastern Divan Orchestra, including Ginastera's Violin Concerto with his son Michael Barenboim as soloist at the Teatro Colón on 29 and 30 July.
For a list of performances of Ginastera's music throughout the centennial year,
click here
.
>
Read this news story in Spanish
>
Ginastera centennial events around the world
>
Ginastera centennial recordings
> Further information on Work: Beatrix Cenci
> News Search
Mailing List
Sign up for news updates and offers via email
SIGN UP
ONLINE SCORES