Glanert: orchestral premieres in Cologne, London and Leipzig
(September 2009)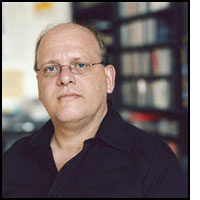 Detlev Glanert reviews: Shoreless River and Three Songs Without Words
Detlev Glanert has shown his mastery as an orchestral composer in two new high-profile works premiered in Cologne, London and Leipzig this summer.

Shoreless River (Fluß ohne Ufer), a tone-poem anticipating Detlev Glanert's forthcoming opera The Wooden Ship, was conducted by Semyon Bychkov in Cologne with the WDR Symphony Orchestra and at the BBC Proms in London with the BBC Symphony Orchestra. Further performances are by the Royal Concertgebouw Orchestra in Amsterdam on 9 April conducted by Markus Stenz and by the National Symphony Orchestra of Washington in a coming season.

"This bleak, mysterious composition begins with eight gentle bell chimes and grows into an apocalyptic vision with threatening brass and percussion… Glanert doesn't close his mind to blissful melody. His music communicates directly to the listener. The public cheered after the powerful performance conducted by Semyon Bychkov. Other composers of contemporary music can only dream of such a reception…"
Kölnische Rundschau

"Detlev Glanert's Shoreless River seized attention… Images of water as something limitless and mysterious loom large in this atmospheric tone-poem, which caught the audience's imagination right from the start and held on to it throughout its 25-minute duration." Independent on Sunday

"…encompassing a marvellous range of contrasted paces, colours and effects."
The Independent

Glanert's Three Songs without Words were commissioned by the Leipzig Gewandhaus specially for the hall's celebrations of Mendelssohn's anniversary and were premiered by the Gewandhaus Orchestra under Markus Stenz to launch its season in August. The three movements reinterpret Mendelssohn's idea of textless melody for the modern orchestra, with Glanert's customary virtuosic instrumentation.

"[The] first performance… had a great effect, and the public rightly showered the composer with praise and accolades… Glanert sounds the depths of the orchestral nuances, from intimate viola solo to noisy despair, delights in creative expression with busy heightenings and the jazzy rhythms of the central movement - and nonetheless embraces the poetry in Mendelssohn's music, the tenderness of its melody at every moment."
Mitteldeutsche Zeitung

"Glanert is a master of his trade: he skilfully plays with the listener's emotions and orchestrates brilliantly. As the form seems to develop organically on the one hand and on the other is calculated and balanced out in minute detail, the full scale and power of the work develops… And the public loved it. Applause, cheers, flowers…"
Leipziger Volkszeitung

Glanert's The Wooden Ship, the opera related to Shoreless River, based on the novel by Hans Henny Jahnn, is premiered at the Staatsheater in Nuremburg in October 2010 directed by Johann Kresnik. Next May brings a new production of Joseph Süß in Trier and the premiere of a new orchestral work commissioned by the Munich Philharmonic under the baton of Christian Thielemann.
> Further information on Work: Fluß ohne Ufer
Photo: Iko Freese / DRAMA
> News Search