Glanert's Secret Room premiered by London Sinfonietta
(October 2002)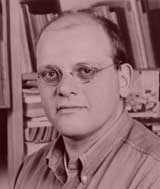 The hit of the London Sinfonietta's New to London programme in May proved to be Detlev Glanert's Secret Room, given its premiere under the baton of Oliver Knussen. The Guardian, summing up the enthusiastic response, wrote "Only one piece really stood out, really offered something fresh and original", and The Times added "Secret Room proved the big hit… a fabulously beguiling work." Secret Room [Geheimer Raum] is the third in a triptych of chamber sonatas by Glanert, following on from Vergessenes Bild (1994) and Gestalt (1995). All three works are experimental and abstract in style, rigorously exploring a restricted range of material, in marked contrast to the richness and descriptive range of much of Glanert's operatic and orchestral output.



"Best of all was the Sinfonietta's own commission, the third Chamber Sonata by the 42-year-old German Detlev Glanert, which he calls Secret Room. It's a tightly argued, four section single movement, which gradually increases in intensity and generates a feeling of claustrophobia through an economical collection of vivid gestures, and generates constantly arresting and genuinely inventive instrumental colours from a handful of instruments."
The Guardian

"It took Detlev Glanert's Secret Room to centre this programme. Albeit Henze-influenced, Glanert is not afraid for his music to be easily understood. The harmonic palette is wide, the material recognisable; a real ensemble piece superbly performed and greatly enjoyed…"
The Independent

Glanert's status as the most performed young opera composer in Germany continues, with three productions this season of his award-winning Scherz, Satire, Ironie und tiefere Bedeutung. The original Halle production is revived this month, and the opera's third and fourth productions since its premiere last year, open at the Prinzregententheater in Munich in February and at the Nationaltheater in Mannheim in March. Glanert's future plans include a children's opera for 2003, a chamber opera for 2004, and a large-scale opera for 2006.
> Further information on Work: Geheimer Raum
Photo: © Manfred Schürmann
> News Search