Glanert's new orchestral works travel internationally
(June 2005)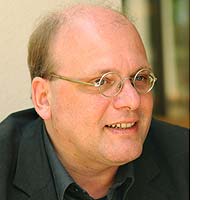 Detlev Glanert's reputation is spreading from the opera house to the orchestral stage with a string of international performances



Detlev Glanert may be regarded as the most-performed German opera composer of his generation, but attention is also drawn this year to his parallel interest in orchestral music with a series of premieres and performances in the UK, Netherlands, Spain and Japan.

Glanert's new work commissioned by the BBC Proms, Theatrum bestiarum, receives its premiere in London on 26 July with John Storgards conducting the BBC Symphony Orchestra. The composer describes this 20-minute piece as "a dark and wild series of songs and dances for orchestra, in which the audience looks in upon the dissection of 'man as beast', as if in an anatomical theatre. The work is an exploration of dangerous dreams and wishes, with an uncomfortable undertow. The ideas and gestures, rather than the actual music, connect to my forthcoming opera Caligula after the play by Camus, due for premiere in Frankfurt in October 2006. Theatrum bestiarum is therefore a glimpse into the inner soul of a monster – as human beings can become."

Kent Nagano conducted the Berlin premiere of Four Preludes and Serious Songs on 26 June with the Deutsches Symphonie-Orchester and baritone Dietrich Henschel, and Valery Gergiev takes the rostrum for the Dutch premiere on 25 November with the Rotterdam Philharmonic at De Doelen, followed by a Saturday Matinee performance at the Concertgebouw in Amsterdam on 26 November. The new score sees Glanert revealing and responding to the music of Brahms, following his earlier octet arrangements of the Schumann Variations op.9 and the Four Piano Pieces op.119.

The new orchestration of Brahms's Vier ernsten Gesänge - his last group of songs, exploring themes of death and eternal love - is totally characteristic of the composer's style, and Glanert surrounds the songs with musical commentaries of his own. These four preludes take Brahms's material on a journey from the late 19th century into Glanert's own contemporary idiom, and the final song is followed by a short valedictory postlude. The newly orchestrated songs can also be performed on their own, making the Serious Songs readily performable in orchestral programmes in two alternative versions.

Glanert also turned to an earlier composer in Argentum et Aurum, premiered by the Orquesta Nacional de España in Madrid in February conducted by Peter Rundel. The title refers to the four-voice Mass by the 15th century Flemish polyphonic master Heinrich Isaac, and the new work grew out of an earlier arrangement commissioned from Glanert by Henze for the Montepulciano Festival. Argentum et Aurum, again inspired by Henze, exists in two forms: a 'spiritual concert' arranging three Mass sections to form a 12-minute work, and an 'instrumental Mass-setting' lasting 35 minutes, which gains its first performance as a dancework in Halle in November choreographed by Ralf Rossa.

Katafalk, an orchestral memorial to a lost melodic fragment, receives its Japanese premiere in Sapporo on 22 July at the Pacific Music Festival, conducted by Jun Märkl. Glanert is composer-in-residence at the festival which also includes a programme of his six most celebrated ensemble works including Mahler/Skizze and Secret Room.
> Further information on Work: Theatrum bestiarum
Photo: © Thilo Beu
> News Search