Golijov and Bettison premieres in Tanglewood 75th season
(September 2015)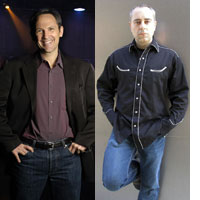 The Tanglewood Music Center celebrated its 75th anniversary season with 30 new commissioned works, including premieres by Osvaldo Golijov and Oscar Bettison.
Osvaldo Golijov
's new work for solo French horn and orcheststra,
Sign of the Leviathan
, was given its premiere this summer by the Tanglewood Festival Orchestra conducted by Stefan Asbury as part of the Tangelwood Music Center's 75th anniversary celebrations. This melancholy 12-minute work for solo French horn and orchestra is a meditation on the biblical sea monster of his title. The
Boston Globe
described how the soloist, "suspended in a slow-bobbing 6/8 tide, conjures the beast's song as well as the foghorns of its seafaring milieu. Strings evoke waves that lap, swell, and splash, even as their unanimity of timbre underlines the protagonist's isolation."
In its review of past highlights, Tanglewood also programmed excerpts from Golijov's opera
Ainadamar
, which was premiered at the festival in 2003 and has since travelled the world and been recorded by Deutsche Grammophon. Golijov is currently working on a new stagework commissioned by the Metropolitan Opera, based on
Iphigenia in Aulis
by Euripedes and planned for premiere in the 2018/19 season. Golijov highlights in the coming year include the UK premiere of his cello concerto
Azul
on 9 March with Eduardo Vassallo and the City of Birmingham Symphony Orchestra, and
The Dreams and Prayers of Isaac the Blind
performed by the Orchestre de Chambre de Paris this month and by the Queensland Symphony in Brisbane next May.
The last of the Tanglewood commissions to be premiered this summer was
Oscar Bettison
's 25-minute
String Quartet
, reviewed warmly in the
Wall Street Journal
: "the individual string lines took on shape, color and character, all plentifully, and Mr. Bettison began testing the ensemble's range of expressive effects, moving from unison themes, to sighing glissandi, to toying with room resonance, to dense layering before circling back to the brusque chords of the opening, now hidden within a richer texture. It was one of the festival's most striking works, and it made sense to save it for the end."
> Further information on Work: Sign of the Leviathan
Photos: Tanit Sakakini, Sarah Bettison
> News Search
Mailing List
Sign up for news updates and offers via email
SIGN UP
ONLINE SCORES