HK Gruber: Hardenberger gives UK premiere of Busking
(January 2010)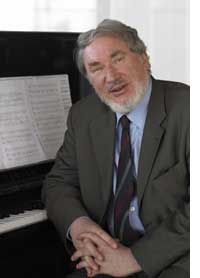 HK Gruber launches his new Composer-Conductor role at the BBC Philharmonic in Manchester with the UK premiere of Busking on 27 February. Håkan Hardenberger is star soloist in this jazzy work for concertante trumpet, accordion and banjo with string orchestra. The solo line-up draws parallels with Picasso's painting Three Musicians, depicting bohemian music-making with carnivalesque overtones. In musical terms Gruber's soloists function as modern equivalents of a baroque trumpet coupled with organ or harpsichord continuo, perhaps as heard on the streets of New Orleans.

Gruber and Hardenberger have worked closely together over the past decade, with the trumpeter giving over 45 performances of Gruber's concerto Aerial, plus numerous programmes featuring the 3 MOB Pieces and Exposed Throat. Hardenberger has already given performances of Busking in the Netherlands, Germany, Austria, Sweden, Finland and the USA, with future performances planned in Norway and France. Gruber and Hardenberger join forces three days before the Busking premiere for a Manchester performance of Kurt Schwertsik's Divertimento Macchiato.

Gruber's future plans include a new symphony for percussion and orchestra, entitled into the open… His trumpet concerto Aerial receives further high profile performances in June with the London Symphony Orchestra conducted by Daniel Harding and the New York Philharmonic with Alan Gilbert – all with Hardenberger as soloist.

> Further information on Work: Busking
Photo: Lucerne Festival
> News Search
Mailing List
Sign up for news updates and offers via email
SIGN UP
ONLINE SCORES