HK Gruber in spotlight at Stockholm Composer Festival
(October 2017)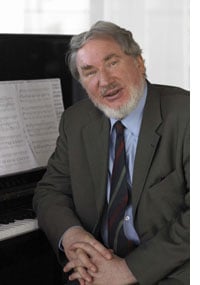 This year's International Composer Festival at Stockholm's Konserthuset is devoted to the music of HK Gruber, with three Swedish premieres including his new Piano Concerto for Emanuel Ax.
This season celebrates the 75th birthday of HK Gruber and his music in the spotlight in Stockholm in November, with the International Composer festival at the Konserthuset presenting nine of his works. The composer is joined on the rostrum by Sakari Oramo and Thomas Dausgaard, with soloists Emanuel Ax, Colin Currie and Matthew Barley and the Royal Stockholm Philharmonic, Royal Swedish Opera Orchestra and the Swedish Chamber Orchestra.
The repertoire ranges from his classic Pandemomium for chansonnier and orchestra,
Frankenstein!!
, to his most recent works performed for the first time in Sweden. Three concertos are programmed: the
Piano Concerto
written for Emanuel Ax, the percussion concerto
into the open...
with Colin Currie, and the
Cello Concerto
with Matthew Barley. Orchestral works include
Dancing in the Dark
and his suite
Northwind Pictures
drawn from his 2005 opera
Der Herr Nordwind
. Chamber orchestra works include
Manhattan Broadcasts
and
Timescapes
written in memory of the Viennese poet H.C. Artmann.
16 November, 19.00 / 18 November, 15.00
Piano Concerto
(Swedish premiere) /
Charivari / Dancing in the Dark
Emanuel Ax/Royal Stockholm Philharmonic/Sakari Oramo
19 November, 15.00
Frankenstein!!
HK Gruber/Royal Swedish Opera Orchestra
22 November, 19.00 / 23 November, 18.00
into the open…
(Swedish premiere) /
Northwind Pictures
(Swedish premiere)
Colin Currie/Royal Stockholm Philharmonic/HK Gruber
24 November, 19.00
Cello Concerto
/
Manhattan Broadcasts
/
Timescapes
Matthew Barley/Swedish Chamber Orchestra/Thomas Dausgaard
www.konserthuset.se/en
> Further information on Work: Piano Concerto
Photo: Lucerne Festival
> News Search
Email Newsletters
Sign up for news updates and offers via email
SIGN UP
ONLINE SCORES