HK Gruber: into the open... for percussion and orchestra
(August 2012)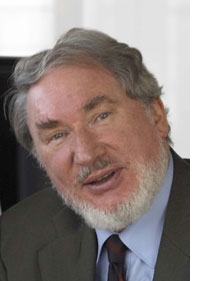 HK Gruber's latest work, into the open..., is part percussion concerto, part memorial
HK Gruber
's new symphonic work for percussion and orchestra,
into the open...,
was commissioned by Socrates Holding in loving memory of Harriet Harmann, and Gruber has dedicated the work to David Drew, the publisher and musicologist who died during the early stages of the work's composition. The score inevitably takes the form of a ritual procession, quite different in character to Gruber's earlier percussion concerto
Rough Music
.
Whereas
Rough Music
was largely concerned with percussive noise-making in all its extrovert forms and was very much a virtuoso solo vehicle, Gruber has described how in the new work he "wanted to write a symphonic piece, not a display of wild drumming, but concentrating on tuned percussion with the soloist working closely with the orchestra. All the pitches of the percussion are shadowed in the orchestra, often combining to form unexpected sonorities with bell-like attacks."
"I remember exactly where I was in the composition when I heard of David Drew's death, and this influenced the course of the rest of the piece. A broken melody emerges, building upon the ritual opening and trying to form itself into a lament, with successive interruptions. David was a powerful mentor to me as well as a much loved friend - he signed me to be published by Boosey & Hawkes which was the day that changed my life - and in the final pages I wanted to capture the sense of his spirit going out into open space."
Cast in a single movement lasting 25-minutes,
into the open...
is scored for large orchestra to balance the battery of percussion. The collection ranges from conventional orchestral percussion, through mallet keyboards, to more exotic instruments including Thai gongs, Caribbean cencerros, African balaphone and South American cajon. Pitch and colour are systematically controlled throughout the work, likened by the composer to the approach taken by Cage in his early percussion pieces.
BIS has recently released a new disc by trumpeter Håkan Hardenberger, including Gruber's
3 MOB Pieces
and
Busking
, together with Kurt Schwertsik's
Divertimento Macchiato
, with the Swedish Chamber Orchestra conducted by Gruber (BIS 1884).
> Further information on Work: into the open ...
Photo: Lucerne Festival
> News Search
Mailing List
Sign up for news updates and offers via email
SIGN UP
ONLINE SCORES