Harrison Birtwistle: Arditti Quartet premieres new work
(November 2015)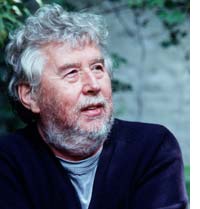 Harrison Birtwistle's new work written for the Arditti Quartet, The Silk House Sequences, receives first performances in London, Milan, Huddersfield, Paris and Witten.
The Arditti Quartet has worked closely with composer
Harrison Birtwistle
over 25 years, and his latest new work for the group,
The Silk House Sequences
, is premiered at the Wigmore Hall on 6 November. The 25-minute work was commissioned by the Wigmore Hall, Philharmonie de Paris, Wittener Tage für neue Kammermusik, Arditti Quartet (with support from the Siemens Foundation), Huddersfield Contemporary Music Festival and Milano Musica.
The new work is named after Birtwistle's Wiltshire home, The Silk House - a silk factory in an earlier incarnation, and like much of his chamber ouput explores personal musical poetry on an intimate scale. Following its premiere in London, the Arditti Quartet takes
The Silk House Sequences
to the Milano Musica series in Italy on 14 November and to the Huddersfield Contemporary Music Festival on 29 November. Further performances next year are scheduled at Cité de la Musique in Paris on 20 January and at the Witten New Chamber Music Days in Germany in April.
The Arditti Quartet has been immersing itself in Birtwistle over recent months, with performances of his second string quartet
The Tree of Strings
(2007) at the Universidad EAFIT in Medellín as part of a British Council-supported trip to Colombia, and an all-Birtwistle programme at Cardiff University on 20 October featuring
The Tree of Strings
together with his first work for the group,
9 Movements for String Quartet
(1991-96). In 2012 the Arditti Quartet released a recording of the earlier two quartet works by Birtwistle on the Aeon label. The
9 Movements for String Quartet
were interleaved with Celan song settings in Birtwistle's
Pulse Shadows
, recorded by the Arditti Quartet with the Nash Ensemble on Warner Classics in 2001.
Harrison Birtwistle was awarded the prestigious Wihuri Sibelius Prize in Helsinki last month, with a performance of his orchestral work
Night's Black Bird
linked to the ceremony. He recently completed
Five Lessons in a Frame
, to be premiered by the London Sinfonietta in June 2016 and is embarking on the composition of a new orchestral work. Recent Birtwistle recording releases include
Antiphonies
and
Slow Frieze
with Nicolas Hodges as piano soloist on Metronome, and a collection of songs together with the first recording of
Cantus Iambeus
on Toccata Classics.
> Further information on Work: The Silk House Sequences
Photo: Hanya Chlala/ArenaPAL
> News Search
Mailing List
Sign up for news updates and offers via email
SIGN UP
ONLINE SCORES