Holloway's Concertante for Tuba & Orchestra Receives US Premiere with San Francisco Symphony
(February 2017)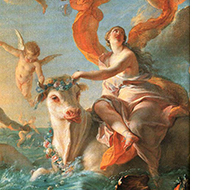 Holloway's Europa & the Bull, inspired by a mythical tale from Ovid, travels to the US for its American debut after its successful world premiere in the UK. It will be performed by co-commissioners San Francisco Symphony, featuring Jeff Anderson, the orchestra's principal tuba player.
On March 23,
Robin Holloway
's
Europa & the
Bull for tuba and orchestra receives its US Premiere with Jeff Anderson and San Francisco Symphony, led by Michael Tilson Thomas. Composed in mid-to-late 2013, the 20-minute piece draws inspiration from the myth of Jupiter's pursuit of the nymph Europa in the form of a bull.
The piece follows the narrative of the story in seven parts, with the role of the bull/Jupiter portrayed by the tuba soloist. The sections express a dynamic range of action and emotion, from the tuba's declamatory entry and gentle wooing, to the aggressive abduction and ensuing violence, with a solemn hymnlike conclusion that represents the resulting fruitful terrain. (
Click here
to read the entire program note.)
Explaining that he found the story to be "ideal imagery for the tuba," Holloway drew equal inspiration from the instrument itself. The composer writes, "I was initially inspired by my love of the noble solo instrument that is usually confined to roaring or brooding at the bottom of the brass section, plus admiration for some outstanding players of it when a rare moment of exposure reveals, as well as sheer power, their powers of
cantabile
and eloquence."
The work, which was co-commissioned by the Royal Liverpool Philharmonic Society for its 175th anniversary and the San Francisco Symphony, received its world premiere performance on October 8, 2015 with soloist Robin Haggart, the Royal Liverpool Philharmonic Orchestra, and conductor Andrew Manze. Of the premiere performance,
The Guardian
praised Holloway's "exploration of the lyrical, even seductive qualities that give the instrument a certain nobility. The RLPO's heroic principal tuba Robin Haggart fully conveyed the profound, singing quality achievable from this very large yet surprisingly expressive horn."
The Times
praised the composer's "lucid, finely balanced writing."
Holloway has a longstanding relationship with San Francisco Symphony, which began in 1990 when it gave the US premiere of his Serenade in G. The orchestra has since performed the US premieres of his Third Concerto for Orchestra in 2000 and his Viola Concerto with violist Geraldine Walther in 2002; as well as the world premieres of
Clarissa Sequence
in 1998, Fourth Concerto for Orchestra in 2007, and more recently
Peer Gynt
in 2013.
> Further information on Work: Europa & the Bull
> News Search
Mailing List
Sign up for news updates and offers via email
SIGN UP
ONLINE SCORES