Isang Yun Centenary celebrated in 2017
(September 2015)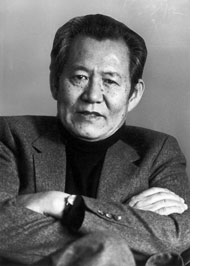 The centenary of Isang Yun in 2017 offers the opportunity to explore this pioneering composer's works which combine the tradition of Eastern-Asian music with Western avant-garde techniques.
Born near Tongyeong,
Isang Yun
studied cello and composition in Korea and Japan, and actively opposed the Japanese occupation, leading to his imprisonment until the end of World War II. Following the Korean War armistice in 1953 he taught at Seoul National University and in 1956 won a scholarship to study in Europe, first in Paris and then with Blacher and Rufer in Berlin, where he settled in 1964. Due to a visit to North Korea in 1963 he was abducted from Berlin by South Korea's Park regime in 1967 and imprisoned in Seoul for two years, leading to a campaign for his release by leading musicians. Returning to West Germany, he took citizenship and taught in Hannover and Berlin, assuming a life in exile while never neglecting his Korean roots.
Yun's music is richly ornamented, adapting techniques from Korean traditional music such as glissando, pizzicato and vibrato, with sudden dynamic shifts moulding the multiple melodies. His breakthrough work in the West was
Reak
for orchestra, blending a post-serial idiom with Korean ceremonial music and displaying instrumental colours resembling the East-Asian mouth organ. His four stageworks, including
Butterfly Widow
composed in his prison cell, are based on mythological subjects exploring Taoist themes, dreams and the spirit world. In the 1970s and '80s he focused on concertos and symphonies, with highlights including the
Cello Concerto
,
Violin Concerto No.1
and
Symphony No.5
for baritone and orchestra setting texts by Nelly Sachs.
Angel in Flames
with its
Epilogue
employing female voices was premiered a few months before his death in 1995.
>
Listen to audio clips of Yun's music
>
View online scores by Yun
A new documentary film,
In Between – the Composer Isang Yun in North and South Korea
, has been released by Accentus Music. Filmed on both sides of the most extreme remaining Cold War frontier, the documentary examines the composer's role as a bridge between incompatible ideologies and his lifelong belief in reconciliation. Yun is one of the few figures equally revered on both sides of the 38th parallel, with pairs of Yun Festivals and Yun Chamber Orchestras in North and South, together with scholastic research in both territories. Yet there is no exchange of ideas across the border and each country claims to support the 'truth' about this exceptional Korean musician.
> News Search
Email Newsletters
Sign up for news updates and offers via email
SIGN UP
ONLINE SCORES