James MacMillan: Quickening and St John Passion CDs
(January 2009)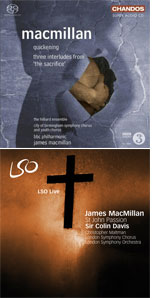 James MacMillan: Quickening and St John Passion CDs
James MacMillan's two largest-scale choral works have just appeared on a pair of new CDs, offering deeply considered perspectives on birth and death, and a demonstration of the composer's skill at layering vocal forces, from solo, through chamber choir to full chorus.

Quickening, the four movement cantata setting texts by Michael Symmons Roberts on the mystery of birth, can be heard on a new Chandos recording (CHAN 5072) combining the forces of The Hilliard Ensemble, BBC Philharmonic, and the City of Birmingham Symphony Chorus and Youth Chorus, conducted by the composer. As well as focusing on moments of great intimacy, the work employs an expansive orchestral palette with some of his most original percussion sonorities, intended to fill the Royal Albert Hall at its BBC Proms premiere in 1999.

Since its premiere Quickening has been performed six times in the UK, by the Philadelphia Orchestra, at the New Zealand Arts Festival, and is included in this season's MacMillan feature at De Doelen in Rotterdam on 4 March. Boosey & Hawkes has released a study score of Quickening in the Hawkes Pocket scores series to tie in with the CD release. Quickening is coupled on the Chandos disc with the first recording of the Three Interludes from his opera The Sacrifice.

Buy the CD of Quickening from our Online Shop
Buy the Study Score of Quickening from our Online Shop

MacMillan's St John Passion, recorded by the London Symphony Orchestra and Chorus at its premiere last April conducted by Sir Colin Davis, has just been released on the LSO Live label (CD 0671, download 0171). Christopher Maltman gives an impassioned portrayal of Christ, railing against his seeming rejection by humanity as his crucifixion approaches, with the narrative driven by a plainsong imbued evangelist chorus, and dramatic interjections and reflections from the full chorus.

Forthcoming performances of the St John Passion include the German premiere with the Berlin Radio Chorus conducted by Simon Halsey on 14 March, the Dutch premiere with the Royal Concertgebouw Orchestra in Amsterdam on 3 April and the US premiere with the Boston Symphony Orchestra next season, both conducted by Sir Colin Davis.

Buy the CD of St John Passion from our Online Shop.
Listen to an audio clip of St John Passion

MacMillan remains equally active as a composer of smaller-scale works, intended for performance by chamber choirs and within the community. He recently won the Liturgical prize in the British Composer Awards for his ongoing series of Strathclyde Motets, now numbering 11, which are contemporary in idiom but succeed in being readily performable by local amateur choirs.

Paul Spicer has recently updated his guide to MacMillan's choral music, with full information and advice to choral directors for each work: please visit www.boosey.com/macmillan.
> Further information on Work: St John Passion
> News Search
Mailing List
Sign up for news updates and offers via email
SIGN UP
ONLINE SCORES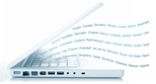 Explore our library of over 1000 online scores
VIEW SCORES