James MacMillan: first performances of All the Hills and Vales Along
(September 2018)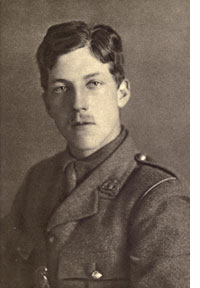 James MacMillan's new work on texts by Scottish wartime poet Charles Hamilton Sorley receives first performances with Ian Bostridge at the Cumnock Tryst festival and in London.
Ian Bostridge is tenor soloist in
James MacMillan
's new work commissioned by 14-18 NOW and the London Symphony Orchestra to mark the centenary of the Armistice. Scored for tenor, chorus, brass band and string quintet or string orchestra,
All the Hills and Vales Along
sets five texts by Scottish wartime poet Charles Hamilton Sorley (1895-1915).
A pair of first performance take place over the coming months: at MacMillan's Ayrshire festival Cumnock Tryst with string quintet on 6 October and at the Barbican in London with string orchestra on 4 November. The Cumnock Tryst performance is the centre-piece of this year's festival with Ian Bostridge, the Edinburgh Quartet with double bass Nikita Naumov, the Festival Chorus and Dalmellington Band conducted by Eamonn Dougan. The Barbican performance features Ian Bostridge, the strings of the London Symphony Orchestra, the LSO Chorus and the National Youth Brass Band of Great Britain conducted by Gianandrea Noseda.
MacMillan notes that "although his body of work is small, Masefield and Graves thought of Sorley as one of the most significant war poets. Years ago I was given a book of Poems of the First World War, edited by Martin Stephen, and I immediately turned to the ones by Owen, Sassoon and Graves. However, I was also directed towards a beautiful poem
All the Hills and Vales Along
by CH Sorley and I made a mental note. I returned to it years later, along with others by him, which are now set in the new oratorio."
All the Hills and Vales Along
features settings of five of Sorley's poems including his last,
When you see millions of the mouthless dead
, discovered in his kit bag after his death on the Western Front in 1915 aged only 20. Following movements for instruments, choir and soloist alone, forces join for the final setting
To Germany
including the lines
When it is peace, then we may view again with new-won eyes each other's truer form and wonder
. This is MacMillan's second work written for Ian Bostridge, following the
Gloria
dating from 2011, commissioned for the 50th anniversary of the opening of the new Coventry Cathedral and performed there again in June this year.
A few days before the Barbican performance of the new oratorio the LSO and soloist Peter Moores give the UK premiere of MacMillan's
Trombone Concerto
on 1 November. This powerful work, the latest in a series of virtuosic concertos composed over the past decade, ranges from hymn-like melodies through eruptions from brass, percussion and siren to a final soulful lament. The concerto has seen 15 performances scheduled since its premiere last year with first appearances this season in Belgium, Switzerland and Scotland.
>
Cumnock Tryst
>
LSO at the Barbican
> Further information on Work: All the Hills and Vales Along
Photo: Charles Hamilton Sorley (1895-1915) photographed in 1914/15
> News Search
Email Newsletters
Sign up for news updates and offers via email
SIGN UP
ONLINE SCORES