Jenkins: Songs of the Earth llega a los Estados Unidos
(January 2013)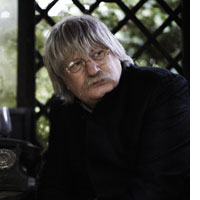 DCINY presenta la obra inspirada en los Juegos Olímpicos junto con The Armed Man: A Mass for Peace.
De acuerdo con la tradición anual, la música de
Karl Jenkins
llenará nuevamente el Auditorio Isaac Stern de Carnegie Hall en enero, en el concierto inaugural de la temporada de Distinguished Concerts International New York (DCINY). En el marco del programa compuesto únicamente por obras de Jenkins,
The Sounds of War and Peace
, se presentará
por primera vez en los Estados Unidos
la canción
Songs of the Earth
y también se incluirá la popular pieza
The Armed Man: A Mass for Peace
. Un conjunto de coros provenientes de todo el mundo se reunirá para esta presentación a realizarse el
21 de enero
, el Día del Dr. Martin Luther King, Jr.
Songs of the Earth
(2011) se presentó por primera vez en marzo, en el proyecto BBC's
Music Nation
: un fin de semana lleno de presentaciones en todo el Reino Unido que marcó el comienzo de una serie de eventos que anticipaban los Juegos Olímpicos 2012 en Londres. Al igual que los Juegos Olímpicos de la Antigüedad, la inspiración para crear esta obra musical se encuentra en la mitología de la Antigua Grecia. "Recurrí a la Antigua Grecia, cuna de los Juegos Olímpicos, y a la mitología griega para inspirarme y para captar la forma en que los griegos comprendían la creación de la Tierra. Para los textos utilicé mi propio lenguaje 'mítico', el cual usé originalmente en el proyecto
Adiemus
", comentó Jenkins.
> Observe la partitura de Songs of the Earth.
También se podrá escuchar
The Armed Man: A Mass for Peace
(1999), una de las piezas más interpretadas en el mundo. Descritos por el diario
Times of London
como "una bomba de voces orquestales y humanas", los movimientos de esta obra basada en la misa utilizan elementos provenientes de diversos géneros musicales del mundo para representar los horrores de la guerra y para suplicar por la duración de la paz en la Tierra. Desde su composición,
The Armed Man
se interpretó cerca de mil veces en más de veinte países. Para conmemorar su décimo aniversario, EMI Classics lanzó una edición con un CD y un DVD de la obra, y que también incluye como bonus track
For the Fallen
(2010), Jenkins. La edición compuesta por el CD más el DVD se puede adquirir
aquí
.
> Observe la partitura de The Armed Man: A Mass for Peace.
> Escuche fragmentos de The Armed Man: A Mass for Peace.
Hace más de cinco años que DCINY promueve con fervor la música de Jenkins, especialmente durante los conciertos que inauguran la temporada. En conciertos anteriores se incluyeron obras del compositor como
The Wooing of Étaín
(2000),
The Peacemakers
(2011),
Gloria
(2009–2010),
Stabat Mater
(2006–2007) y
Te Deum
(2008). La organización asumió el gran compromiso de inspirar a cantantes jóvenes a través de presentaciones enriquecedoras, reuniendo coros de todas partes del mundo y dándoles la oportunidad de presentarse en el Carnegie Hall de Nueva York.
> Vea este documental donde Karl Jenkins hablan sobre su música.
> Adquiera sus entradas para las presentaciones de Songs of the Earth y The Armed Man del programa DCINY, y consiga más información sobre ellas.
> Más información sobre la obra: The Armed Man: A Mass for Peace
> Further information on Work: Songs of the Earth
Foto: Rhys Frampton / EMI Classics
> News Search
Mailing List
Sign up for news updates and offers via email
SIGN UP
ONLINE SCORES