John Adams: Gospel According to the Other Mary on new DG recording
(April 2014)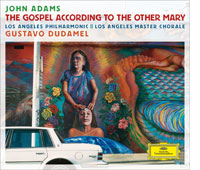 Deutsche Grammophon has released the premiere recording of John Adams's recent Passion oratorio, The Gospel According to the Other Mary, conducted by Gustavo Dudamel.
The Gospel According to the Other Mary, the most recent collaboration between John Adams and Peter Sellars, has been released on a new recording by Deutsche Grammophon, with the original soloists from the premiere in 2012, the Los Angeles Philharmonic and the LA Master Chorale conducted by Gustavo Dudamel (DG 479 2243). A staged version by Peter Sellars was toured to London, Lucerne, Paris and New York the following year, followed by further performances in Amsterdam and Chicago.

> Buy the CD from our Online Shop
> Listen to audio clips
> View the Online Score

"The Other Mary is Mary Magdalene. We may know her as the (supposedly) reformed prostitute who washed Jesus's feet with her hair. Peter Sellars's libretto for this new opera-oratorio follows one tradition by combining her with Mary of Bethany, the sister of Martha and Lazarus, to make up the work's three major players - a family both of close friends and followers of Jesus during the time of his ministry and more modern-day believers struggling against an often disbelieving and repressive society.

"Sellars's achievement is pacy, coherent and intensely moving, and builds to powerful climaxes for key events like the raising of Lazarus from the dead or the Crucifixion. It provides Adams with a vehicle that has inspired music of especial fire and spirituality... Adams and Sellars's new drama never flags. Hugely reccomended."
Gramophone

"John Adams's 2012 Passion oratorio hits the ground running, with its tensed mezzo voice recounting an arrest, a strip-search, and the agony of drug withdrawl... Clearly, we're far from the Gospel narratives trenchantly set by Bach and others... Orchestrally, this is one of Adams's strongest, most varied scores."
The Times

"Some things are familiar here: the interplay of Biblical verse and visionary poetry, political engagement and religious ritual, and the trio of countertenors who narrate and intercede between heaven and earth, ancient and modern. Some things are new: the skeletal jittering of cimbalom amid Adams's signature dazzle of strings and ecstatic brass, and two crowd scenes in which the voices of the Los Angeles Master Chorale roar like souls in torment."
BBC Music Magazine

"As El Niño reflected more generally on a child entering the world, The Other Mary is a profound meditation on suffering and oppression everywhere... And yet the music points to something radically new in the composer's oeuvre. It is edgier, more dissonant, and more abruptly wrenching than any Adams piece I know. Those spacious, tonally expansive sections, familiar from other pieces, remain, but mixed in are stretches of dark color and abrasive harmony that make it sound almost avant-garde... There are marvellous instrumental details throughout, including wild obbligatos in the winds, a cimbalom and bass guitar, and an astonishingly varied use of percussion effects... its originality and intensity of vision are breathtaking."
Boston Globe

"...a multi-layered and philosophically complex work... its intensity is one of John Adams' greatest accomplishments... One can listen to this amazing piece as a practicing Christian and follow every word and think over and over again about what things were actually like for Mary Magdalene. Or, one can listen somewhat oblivious to the text and just let this very rich, complex, often moving and sometimes unsettling score involve you."
Audaud

May brings two major stage productions in France of Adams operas: the French premiere of Doctor Atomic by the Opéra national du Rhin, opening in Strasbourg on 2 May, and the first French production of A Flowering Tree at the Théâtre du Châtelet in Paris with opening night on 5 May. Adams is currently working on a new symphony for violin and orchestra written for Leila Josefowicz, entitled Scheherazade.2, with world premiere scheduled by the New York Philharmonic in March 2015 and further performances by the co-commissioners the Royal Concertgebouw Orchestra in Amsterdam and the Sydney Symphony Orchestra.
> Further information on Work: The Gospel According to the Other Mary
> News Search
Mailing List
Sign up for news updates and offers via email
SIGN UP
ONLINE SCORES